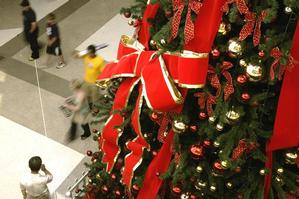 Retailers will push sales this Christmas in the hope of persuading shoppers to spend at least $250 million more than during last year's festive season.
New Zealand Retailers Association chief executive John Albertson said competition was likely to encourage shops into discounts, adding that the "real action" would start next month.
"We'll certainly see a very competitive market - what format it will take is hard to tell. There's no question that there will be a significant fight for everyone so I think we'll see a competitive place and it will be very good for consumers," he said.
"There will be discounts, there will be value-adds, I think we'll see a whole range of promotional tools and it will make for a very exciting marketplace.
"It has been a reasonably difficult year for the industry. It's been very competitive out there and the consumer hasn't been exactly spending up large but our view is that Christmas is actually going to be reasonable."
While an increase in spending was predicted for December, it was not expected to last, and would be followed by a period of quiet, Mr Albertson said.
"In the past people have borrowed against the house, which has stopped, and they've done that to spend.
"They have put money on their credit card, which has slowed as well. Consumers have adjusted - they've now got their credit limits back under control and I think they are ready to have a bit of excitement in their lives.
"Our pick is that [Christmas is] not going to be huge but I think it's going to be better than what we expected a few months ago.
"People are going to be far better managers of their money."
Statistics showed that spending for December 2008 was 1.7 per cent up on December 2007, at $5.14 billion.
However, Mr Albertson said that when matched with inflation, spending was down.
"It was a very flat Christmas last year, we would expect a bit of growth [this year]. I would like to think that we would see a December that is at least 5 per cent up on last year."
Mr Albertson said the season's success would not be known until after Christmas because New Zealanders usually left their shopping until the last two weeks before Christmas Day.
"The hardest thing for retailers to cope with is the spending always comes late."
Stuart Yorston, the marketing director for The Warehouse, said this year the company was facing more competition from retailers who were having sales more often.
Asked how the company hoped Christmas would go compared with last year, Mr Yorston said: "We hope it is going to be better.
"We just hope consumers are going to come out and spend some money after tightening their belts over the whole year."
He said the company was expecting an influx of shoppers at the last minute because, although there were 34 shopping days left before Christmas, the day itself fell on a Friday this year, which meant many people would be working until Christmas Eve.