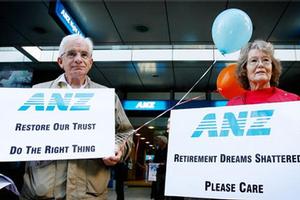 Complaints, it's had a few but ANZ Bank was always going to win the award for Most Moaned-about Bank, 2009.
Thanks to its unfortunate association with the now-discredited ING credit funds, ANZ garnered a chart-topping 640 "inquiries, complaints and disputes" lodged with the Banking Ombudsman (BO) beating out Westpac, which could only muster 388 disgruntled customers.
But 640 was a surprisingly low figure considering the scope of the disaster. Approximately 14,000 individuals were invested in the two ING 'frozen funds' and you'd think at least 3-4,000 came through ANZ advisers.
Even so, the extra load imposed by ANZ has put considerable strain on the BO, as it struggled to deal with the volume as well as the complexity of the complaints against advisers.
The 'frozen funds' case also highlighted a glaring anomaly in the financial disputes resolution system in New Zealand - clients who bought the ING products via ANZ had at least a system to whine to while those who invested in identical products through an 'independent' adviser were left to stew, or spend thousands on a lawyer.
Thankfully, that is about to change. All financial service firms and advisers will from (sometime) next year will have to belong to an external disputes resolution body. And the complaints specialists are starting to appear.
This one is the first to pitch directly to the independent financial advisory market and is right now drumming up support from the industry. As well the Insurance and Savings Ombudsman and the BO are considering how they might expand their schemes to cater for the increased demand.
The bluntly-named Dispute Resolutions Limited (DRSL, pronounced 'drizzle') may also enter the game as a catch-all scheme for firms and advisers who can't be bothered choosing anybody else.
This is good news for complainers everywhere - it will be cheaper and easier to seek redress. Inevitably, the numbers of complaints will also rise, build it and they will come, but who's going to complain about that?
David Chaplin
Pictured: John Lloyd and Camille Hope protesting outside an ANZ branch earlier this year. Photo / Greg Bowker.