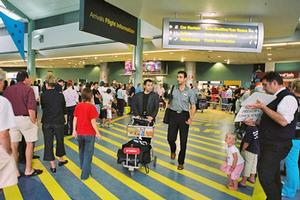 Infrastructure investor Infratil sold its stake in Auckland Airport for tens of millions of dollars less than it paid for the shares.
Infratil spokesman Tim Brown pointed out it was the second time the company had tried to sell the stake, and bemoaned the role of former Finance Minister Michael Cullen in preventing that earlier sale going ahead.
Infratil today said it had sold its 3.87 per cent investment in Auckland International Airport at $1.84 per share.
The 47.4 million shares were sold by way of institutional placement and raised a total of $87.25 million.
Brown said the original investment had cost Infratil about $140m, and would have been worth around $180m under a bid last year by the Canada Pension Plan Investment Board for 40 per cent of the airport, which the former Government blocked.
The Government's decision to veto the bid came after Dr Cullen moved to tighten up overseas investment criteria in response to the Canadian bid.
"Looking back, you would say it (the Auckland Airport stake) was a very poor investment. After all we paid a lot of money for something which we sold for quite a lot less," Brown said.
"That's not necessarily the same as saying, `if your time was all over again, would you do it again', remembering some quite extraordinary developments such as Michael Cullen's intervention in the market, such as the global downturn in the aviation market and the financial crisis."
The rejection of the Canadian plan was, for many reasons, including the "arbitrary" manner in which it was rejected, regarded by the capital markets as not good for investors in New Zealand-listed securities, Brown said.
"So, it definitely has cast a shadow, I would say, over the market."
In last year's accounts, Infratil had taken a loss of effectively $60m-plus in the value of the Auckland Airport investment, Brown said.
This year there had been a small share price recovery, so there was a small profit relative to the written down value.
The sale of the airport stake was in line with Infratil's signal earlier this year that it was looking to take capital out of some relatively lower prospect investments, while looking to invest in more exciting opportunities, Brown said.
Despite that, Infratil considered Auckland Airport to be a fantastic company and the new owners of the stake would do extremely well from the investment, but Infratil's management had thought it had something better to do with the money.
Infratil had widespread investment activity under way, he said.
Last week Infratil announced that, along with the New Zealand Superannuation Fund, it had entered into exclusive negotiations with Shell over possibly buying Shell New Zealand's refining, distribution and retailing businesses.
Infratil also recently decided to exercise a put option that saw it quit its 90 per cent stake in Lubeck Airport in northern Germany.
Brown said that for now, Infratil's investment focus was on Australasia where "tremendous" opportunities were available.
The investment market was less competitive than it had been a few years ago. At the same time, government was trying to encourage the private provision of infrastructure, and multinationals such as Shell were reducing their investments.
Infratil said that since March 31, it had divested more than $215m of non-core assets and raised over $98m of new capital.
As a result of the sale of Auckland Airport shares, it would record a gain on sale of about $6m in the financial statements for the year to March 2010.
Infratil shares were down 2c to $1.58 at lunchtime, while Auckland Airport shares were down 6c to $1.87.
- NZPA