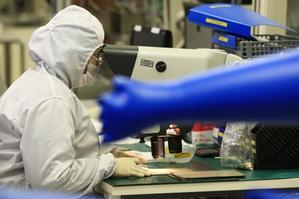 High-tech equipment company Rakon plans to raise $65 million to build a new factory in China despite a shock loss forecast for the first half of its financial year.
The former sharemarket darling yesterday said it expected to make a loss of between $3 million and $4 million for the six months to September although its earnings before interest, tax, depreciation and amortisation (ebitda) forecast for the full year was between $4 million and $8 million.
Market commentator Arthur Lim said the plans to build the factory in China had been previously signalled but the loss was unexpected and the full year forecast was well below analysts' expectations of a $15 million ebitda.
Managing director Brent Robinson said pricing pressures in its GPS business as well as currency fluctuations and a higher than expected New Zealand dollar had impacted the business.
But it was now seeing a recovery in demand and that was why it saw great potential in the construction of a new factory in China.
"We put our Chinese expansion on hold last year while the world was in recession. However, the scale of the earnings growth opportunities in front of us, and the speed at which they are developing, gives us confidence that now is the right time to proceed."
Robinson said it would begin construction of a new Chinese manufacturing plant in Chengdu with its existing Chinese joint venture partner, Timemaker, this year with production expected to start in 2011.
The factory would manufacture crystals allowing Rakon to cut out a 10 per cent margin it had to pay to acquire crystals from other manufacturers.
Robinson said China was the centre of manufacturing for consumer electronics and expanding there would give Rakon a much stronger position in the world's largest market.
Construction of the first stage is expected to cost $30 million through to the end of the 2011 financial year.
Additional funds would be used for working capital, repayment of all debt and the settlement of outstanding deferred consideration for Timemaker of $6.3 million. A total of US$60 million ($83 million) would be spent on the project over the next few years. Robinson also expected the China expansion to help it manage currency fluctuations.
"Expansion in China also aids in reducing our exposure to the highly volatile New Zealand dollar which can greatly affect the cost-sensitive, high-volume products we will manufacture there."
Rakon said it expected sales volumes in the second half of the year to be about 150 per cent higher than those of the same period last year, when sales dropped off dramatically due to the global financial crisis.
Rakon estimates 2011 ebitda will be between $30 million and $35 million.
But Forsyth Barr analyst Jeremy Simpson did not believe it would be smooth sailing.
"I think there will be challenges. There is still a lot of uncertainty in the current environment."
Rakon shares were on a trading halt yesterday and last traded at $1.49.
RAISING CAPITAL
* $65 million in total.
* $45 million to come from an institutional placement underwritten at $1.10.
* $20 million from a share purchase plan offered to existing investors.
- ADDITIONAL REPORTING: NZPA