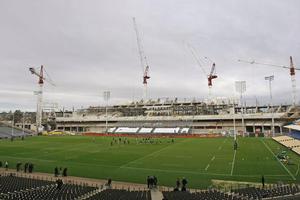 The Government's plan to spend $7.5 billion on infrastructure over the next five years is helping to keep the construction sector afloat.
Peter Neven, general manager of Fletcher Construction's building division, says without state and local government infrastructure spending, the sector, which puts up work worth almost $10 billion annually, would be even harder-hit by the recession.
"When we went through the last recession there was just no work in the pipeline. The Government was not spending any money," he recalls of the period during the early 1990s.
Now, much of the work awarded has a focus of the lead-up to Rugby World Cup 2011 and includes upgrading the motorways, plans for new hotels, schools, prisons and sports facilities.
Making the road flow from Auckland Airport to the city, preparing Eden Park and resolving the Victoria Park motorway bottleneck are some of the big projects aimed to be finished by 2011.
"If the infrastructure spending was not going on, our industry would be decimated again. At the end of 1987, there was just nothing going through the design offices at all. Now, the Government's spending on hospitals, prisons, education and roading - if we didn't have that, what other developments are going on around Auckland?"
In announcing the three-year $47 million Kopu Bridge job, Prime Minister John Key said the start of construction was brought forward from early 2011 as a result of the Government's $500 million jobs and growth plan announced earlier this year.
"National was elected on a platform of unclogging the country's economic arteries. The Government believes that more investment in infrastructure will boost productivity, unlock economic potential, lift non-inflationary growth and generate employment," he said at the bridge announcement on July 29.
He also took a political swing at the Opposition and summed up his wider spending plan.
"A lack of investment over a number of years has resulted in infrastructure deficits that have clogged the arteries of the New Zealand economy. This Government has begun to clear out those arteries. We are investing $7.5 billion over the next five years to build and upgrade schools, roads, housing, hospitals and telecommunications. We announced in February that we were fast-tracking almost $500 million of this investment and much of this is already underway. This investment is realising some immediate benefits," Key said, citing the $1 billion boost to state highway spending in the next three years.
Big builders are cashing in on the infrastructure goldmine. Fletcher Construction (Penrose, Auckland), Fulton Hogan (Christchurch), Mainzeal Property and Construction (Auckland), Hawkins Construction (Auckland) and Leighton Contractors (North Shore, Auckland) are just some of the largest building businesses here to be benefiting from the stepped-up Government spend.
Australian-headquartered Leighton is part of a business which builds A$9 billion worth of work annually and employs 9000 people. Leighton, along with Australian-headquartered Brookfield Multiplex, is making inroads here.
One of Leighton's largest jobs was the Northern Gateway Alliance which built the tunnels and toll road north of Auckland and comprised the NZ Transport Agency (formerly Transit), Fulton Hogan, URS New Zealand, Tonkin and Taylor, Boffa Miskell and sub-alliance participants VSL and United Group. Robert Jones, Leighton Contractors' New Zealand manager, has cited this job as crucial to the firm's expansion in New Zealand.
Fletcher has four tower cranes and a workforce of 420 people at Eden Park. Neven says the site labour force has not peaked. The beams are now being placed on the new South Stand.
Three Fletcher Construction tower cranes and a labourforce of 150 people are working on stage one of the Mt Eden Prison job. Work there has a long way to go. Stages two and three of the contract are yet to be awarded and will include work on the historic prison block.
Brookfield Multiplex has almost finished the new $200 million office tower at 80 Queen St. Fletcher Construction is finishing refurbishing 21 Queen St which is now worth more than $70 million.
Manson TCLM is part-way through developing the new $250 million four-building campus-style international headquarters for Telecom on a block off Victoria St West in Auckland. Cooper and Company's development of the new East Building, being carried out by Hawkins Construction, is under way in the $1 billion Britomart Auckland waterfront precinct.
But Neven says few other large building jobs are on in Auckland.
Without the infrastructure projects, this could spell big trouble for the sector which employs thousands of people and is crucial to the nation's economic wellbeing.
Fletcher's success in winning the $430 million Victoria Park motorway tunnel was its biggest contract in the past two years.
A consortium of builders and designers will deliver the project more than two years earlier than the previous Government target of late 2013.
Other large infrastructure jobs include Mainzeal's new East Tamaki premises for Lion Nathan, plans for two new Auckland hotels including one at Auckland International Airport and the Manukau Harbour second crossing.