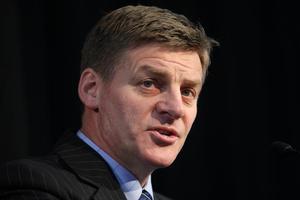 Business leaders want to cap the tax wealthy individuals pay, and are in favour of sweetheart tax deals to incentivise foreign firms to set up shop and create new jobs in New Zealand.
They say they want a fairer, broader-based tax system but two-thirds still oppose the introduction of comprehensive capital gains taxes.
Two out of three respondents to the New Zealand Herald Mood of the Boardroom survey favour capping an individual's personal tax at, say, $1 million, if it attracts new wealth to New Zealand.
An Auckland-based corporate adviser said a $1 million tax cap would definitely attract wealthy migrants to New Zealand. "Wealthy migrants do not only bring capital but they also bring knowledge and often look to get involved in non-profit activities.
"I can point to a number of examples of wealthy immigrants who have been valuable contributors and who have gone home due to the onerous tax consequences of remaining in New Zealand."
One exporter said the tax cap should be tried because it was important for a country, as for a business, to try out new ideas. He suggested a "sunset clause" could be useful because it allowed a poorly performing policy, such as a tax breaks or tax holiday, to "die a natural death" unless the Government explicitly renewed the policy.
"A seven-year period is sufficient time for most policies to be well tested and also has the benefit of spanning beyond two parliamentary terms when either a new minister or a new Government would bring a fresh, independent perspective," he said.
TV and film-maker John Barnett said he would support a tax cap if it attracted new wealth but saw little evidence of wealthy entrepreneurs coming here to set up businesses.
"We should encourage people who have enterprise but not necessarily money to come here and flourish. As a country we are hopeless at understanding what creates enterprise.
"Five of Australia's richest 10 people, or their parents, arrived with nothing, spoke no English and just got on with it. They would not have been able to gain entry here."
Seven out of 10 respondents say the tax mix is not right and a similar percentage would like company, trust and personal tax rates aligned.
Nearly two in three respondents say effective marginal tax rates are discouraging effort. But a majority - 61 per cent - support extending favourable treatment for non-resident businesses which set up their headquarters, regional headquarters or material operations in New Zealand and create a material number of new jobs. They say they will not be concerned if such businesses got a reduced company tax rate or tax holiday, particularly if it did not direct compete in terms of products or services with New Zealand businesses.
Deloitte chief executive Murray Jack said other countries had used their tax systems for years to compete for capital and labour. "We would be naive if we did not figure out how to win at this game," he said.
But a corporate adviser said the system had been used in Ireland and it has backfired. "Business needs to make sense without tax incentives."
Foodstuffs (Auckland) chief executive Tony Carter said a tax benefit granted to an overseas-owned competitor would amount to a tax on a New Zealand company.
"I hate corporate welfare. If our overseas-owned competitor were to get tax benefits for doing more stuff over here, that would place us at a disadvantage which is simply not fair. You have to be very careful to preserve competitiveness."
New Zealand Business Roundtable executive director Roger Kerr said he would not support special treatment for foreign investors over New Zealand investors.
"We need to reduce the Government size to reduce the tax total paid," he said.
One of the more surprising results in this year's Mood of the Boardroom survey is the call, albeit still from a minority, for a comprehensive capital gains tax. Some 37 per cent of respondents want a capital gains tax introduced here which could net $3 billion a year. But 63 per cent oppose such a tax.
Foodstuffs' Tony Carter said he was not personally opposed to a capital gains tax provided it encouraged investment in productive assets rather than assets with a capital appreciation.
"If a capital gains tax attracted more investment in the sharemarket for example, most people would see that favourably."
John Barnett said he opposed a comprehensive capital gains tax but supported capital gains taxes on some property transactions - a view shared by Mainfreight group managing director Don Braid.
"Introduce a capital gains tax on second dwellings if sold within a nominated timeframe,' Braid said.
EMA (Northern) chief executive Alasdair Thompson called for the reintroduction of a payroll tax and a property tax and an increase in GST in return for a reduction in all income taxes. Saunders Unsworth's Mark Unsworth suggested charities which trade "should pay tax".
Former Reserve Bank governor Don Brash, once an advocate of a capital gains tax, said a land tax would be much more effective than a capital gains tax for raising revenue and discouraging investment in real estate.
But that view is not generally shared by other respondents: 90 per cent oppose the reintroduction of land taxes and 76 per cent are against other new taxes such as bed taxes for tourists.
Nearly two-thirds of respondents say the tax system lacks vision and about half think it affects the mobility of capital and labour. A whopping 79.7 per cent say the Government places an over-reliance on the personal tax paid by a small number of taxpayers.
"I would like to see some signalling of a long term move to taxing immobile streams more and mobile streams less," said First NZ Capital's Scott St John. Foodstuffs' Tony Carter agreed, adding that present tax levels were a "drag on the economy".
"I think generally most people would like to see lower taxes. But there is not much room to move in the present climate."