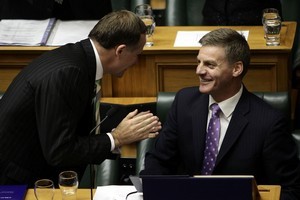 After the Budget: National
Prime Minister John Key and Finance Minister Bill English yesterday defended some of the optimistic forecasts in Thursday's Budget, saying they were done independently by the Treasury and not made to order for the Government.
Mr English also hit out at suggestions the Budget should have been "transformational".
Mr Key and Mr English were responding to commentary around the Budget that returns the books to surplus in four years on forecasts of high job growth, among other factors.
Mr English told an ANZ Budget Breakfast in Wellington that under New Zealand law, the forecasts were independent of the Government.
"I don't have any say over these forecasts. They turn up in my office. It's not like the UK or, I think, Australia where the minister gets to fiddle with them just to make it all fit. I just get these in the mail."
And speaking to a business audience in Auckland, Mr Key said the Treasury was not alone in forecasting an average 3.6 per cent growth over the next two years.
The Budget forecasts were almost identical to the average of all other growth forecasts prepared for NZ by organisations such as the Reserve Bank, OECD, IMF, banks and NZIER.
"These organisations don't base their forecasts on sentiment or how they are feeling that particular morning," the Prime Minister said.
Mr English said the 170,000 new jobs forecast for the next four years would be "just getting back to the job creation rate that this economy demonstrated from 1990 to 2005 where there were 35,000 new jobs every single year for 15 years.
"Done it before - we can do it again."
The Budget measures and anticipated earning from asset sales meant the Government would borrow $10 billion less over the next four years and that would contribute to a winding down in foreign indebtedness.
"There is no magic wand for waving away the burden of high debt on an economy."
- Audrey Young
After the Budget: Labour
The Labour Party is preparing itself to swallow some dead rats and trim its own wishlist as it readies its election-year policy package with a $16.7 billion deficit restricting it.
Social development spokeswoman and deputy leader Annette King is expected to announce the first sacrifice at the party's election year congress in Wellington today.
She is tipped to reveal Labour proposes to scrap one of the social programmes it set up when in Government before 2008 and replace it with a cheaper alternative.
Leader Phil Goff said Labour was aware it would now have to prioritise its policies and delay implementing some should it return to power.
He is expected to announce some economic policy this weekend but the big bangs - such as the full tax policy - will be saved for later.
Mr Goff has so far not committed to reversing any of National's main changes, including the GST increase and cuts to student loans, Working for Families, and KiwiSaver, which he said were fundamentally unfair.
"I'll only be promising to do what is possible."
Labour is coming under increasing pressure to reveal how it will pay for its policies, which so far include scrapping GST on fruit and vegetables and raising the top tax rate to pay for its proposal to make the first $5000 of income tax-free.
Annette King has also indicated Labour will extend paid parental leave and make Working for Families more generous for parents with children aged under 2.
Mr Goff said Labour was forming its policies with the $16.7 billion deficit in mind.
"That means Labour will have to find savings, will have to find efficiencies. We won't be able to put all our plans and policies into effect immediately, or reverse all the cuts."
- Claire Trevett