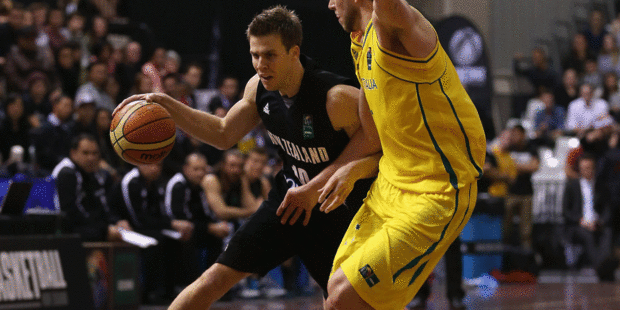 Tom Abercrombie will be back at the Breakers next season after a stint in France - but for how long?
The swingman has opted to eschew any rest after the Breakers' title defence came to an inglorious conclusion, agreeing instead to a short-term contract with ASVEL Lyon-Villeurbanne in the top French league.
It's a deal with a duel purpose, allowing Abercrombie to remain in peak condition ahead of the Tall Blacks' World Cup campaign in September and, of equal importance, put his face in the shop window of European basketball.
Abercrombie has one season remaining on his Breakers contract and, while he fully intends to honour that commitment and return to Auckland, his future may lie in pastures new.
The 26-year-old has long spoken of his desire to test himself outside of the Australian NBL, a suggestion to which the Breakers have always been amenable.
And after an unhappy time in the NBA Summer League last year, Europe could be Abercrombie's best best for furthering his basketball education.
"It's certainly something I've always wanted to do,'' he said from Lyon. "The opportunity to come over here on a short-term deal and get a taste of things was probably the ideal situation.
"I'm looking forward to coming back to the Breakers - there's certainly no danger of my going elsewhere next season. But this is a good chance to see if I like it over here, and who knows what will happen in the future.''
The future could become clearer if Abercrombie can display his undoubted ability while in France. He will be playing in front of the fresh eyes of scouts who have never seen his game, giving him the chance to follow the pathway laid by former teammates Kirk Penney and Cedric Jackson.
"It's a chance to go and play in an environment where I haven't before,'' Abercrombie said. "So it's a good opportunity to show myself and experience a different league.
"I'm sure that playing over here will create those sorts of opportunities. I'm fully committed to the Breakers next season but if you play well it can open up things.''
The likelihood of that will be enhanced if his new team can do something his current club couldn't - emerge successful from a playoff race. With four games left in the regular season, ASVEL sit in the eighth and final postseason spot and Abercrombie needs two or three more wins to extend his trip.
It was a trip that came about in rapid time, with a call from his agent followed by a flight a few days later, before his signing was announced by the club last week. Abercrombie has so far been enjoying his time and he hopes his experience will eventually aid the Tall Blacks' prospects in Spain.
"That's certainly part of it. I wanted to keep playing at a high level and the French league is a very good league. The competition's fantastic and training with these guys every day is only going to help me.''
- APNZ