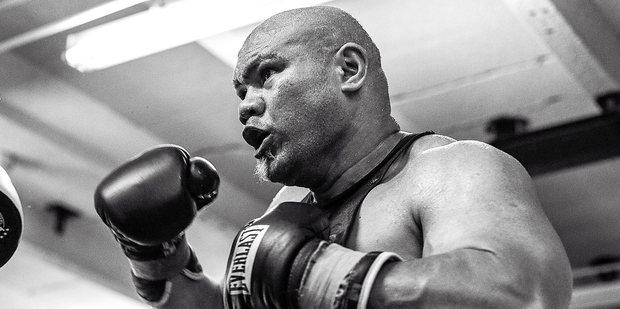 Talk of world title prospects is often thrown about like confetti in the boxing world but there is little doubt Saturday's heavyweight clash between David Tua and Belarusian giant Alexander Ustinov has more than a suggestion of a world title eliminator about it.
One thing is certain - whoever loses this bout will have no chance of meeting either of the famed Klitschko brothers, Wladimir and Vitali, who between them hold all four world title belts and have dominated the heavyweight division for years.

More than that, the loser's career will likely be irretrievably dented. That's not just promoter hype either. Alexander Krasyuk, chief executive of K2 Promotions, the boxing company owned by the Klitschko brothers and under whose umbrella they fight, says as much.
"It's the last chance for both of them," he said in a telephone interview from Moscow. "It doesn't matter so much who wins - but the guy who loses will lose the last chance of his career.
"Vitali and Wladimir have been at the top for the past seven years, longer," said Krasyuk. "They have fought almost all the decent heavyweights in the world - sometimes twice. So the big issue for them is to find a new face, a new boxer with a new style and who can make new history. That means that every heavyweight fight can be regarded as an opportunity for the brothers to source possible opponents.
"David Tua isn't new, of course. He is 40 but he is a legendary fighter. I have seen pictures of him and he has lost a lot of weight; he looks good. If he wins against Alexander Ustinov - who is rated highly in many of boxing's world bodies [8th in the IBF, 12th in the WBA, 15th in the WBO] - Tua will become rated himself and that makes a Klitschko fight possible.
"Age doesn't matter. Tua is not young but Vitali [the WBA world champion] is not young either - he is 42. Alexander Ustinov is not young either [36] so this fight is an important next step from everyone's point of view.
Ustinov is well known to the brothers. He is a K2 fighter, from the Klitschko stable, and has fought many bouts on Klitschko undercards in Germany, where the brothers command big crowds and healthy pay TV contracts.
"The decision on who to fight is not mine; it will be taken by the brothers and their managers," said Krasyuk. "But I can tell you that such a decision depends on the exposure the bout will gain, the size of the names involved, the attractiveness of the challenger, the appeal as a TV event and the whole commercial factor."

As ever with boxing, money will be the key. Some boxing observers believe that the Klitschko reign is beginning to end with Vitali's decision to stand for Ukraine's presidency in 2015.
Vitali is also under pressure to defend his WBA crown and has been told that he must make a decision by November 30.
Both issues have led many to believe that Vitali will stand down as WBC champion, leading to a scramble among WBC contenders for a vacant title fight and then perhaps a unification fight with 37-year-old Wladimir (the IBF, WBO and WBA champion who has said he will never fight his brother to create an undisputed world champion).
Don't believe a word of it. Vitali Klitschko may not have fought since September 2012 when he punished little-known Manuel Charr in a WBC title defence but one of his greatest allies in marketing himself as president will be his boxing. Manny Pacquiao, the brilliant Philippines welterweight champion (not to mention champion in three other weight divisions), is a serving congressman in the Philippines as well as a boxer; former Russian champion Nikolay Valuev is now a deputy in the Russian parliament, the Duma; even Tua has talked of entering politics.
Vitali seems likely to box on in 2014 and maybe even 2015 and beyond and if any cynics need more convincing that Tua - provided he beats the enormous Ustinov - is a realistic title contender, they need only look at Vitali's mandatory challenger, Canada's Bermane Stiverne.
If you said "Who?" after reading that last sentence, you will not have been the Lone Ranger. Born in Haiti, 35-year-old Stiverne has lost only once in 25 fights but, in the way of modern boxing, had not beaten anyone of note before winning over US contender Chris Arreola in April, though he did beat Ray Austin in 2011.
His sole loss was to Demetrice King in 2007. If that name rings a bell, it is because King was easily beaten (though not knocked out) by Tua in Auckland in 2011. World-class, the 28-year-old King is not.

There are other reasons why Tua (or Ustinov) could be figured to be good opponents for the Klitschkos:
• Wladimir is 10 fights away from setting the world record held by Joe Louis for consecutive heavyweight title defences. Klitschko is said to be keen to break this record and assure his place in history. That means he is likely to select opponents who will not threaten him unduly until he breaks the record.
• Tua is a shorter fighter; the brothers are liable to believe their size (Wladimir is 1.98m, Vitali 2.02m and both weigh about 110kg) and heavy jabs will prevail.
• Tua is still well-remembered in the United States and would open up a new revenue stream in the lucrative US pay TV market. That is important to the Klitschkos as Wladimir's latest defence, against Russian Alexander Povetkin, was a lacklustre affair which badly dampened US TV interest in screening Klitschko fights, as they are perceived as predictable, boring boxers.
• Ustinov is huge but maybe not in the brothers' class as a boxer and will not be perceived as a major threat.
• Depending on their results, emerging contenders with a chance of unseating the Klitschkos (Deontay Wilder of the US, Tyson Fury of the UK, expat Cuban Luis Ortiz) may have to wait.
• Wladimir has two mandatory challenges - against Dennis Boytsov (if he beats Alex Leapai this month) in the WBO and underrated Kubrat Pulev, the tough Bulgarian who handed Ustinov his only loss so far - in the IBF. These could be put off if the money is right; the brothers wield enormous power as they hold all the world belts between them.
• There is even talk from promoters Duco Events that, if Tua could beat Ustinov and earn a title shot, the bout could be held in New Zealand if, again, the money is right, maybe in 2015.
That means David Tua has an awful lot to fight for in Hamilton on Saturday.