Three Aucklanders tell Alan Perrott how they reinvented themselves.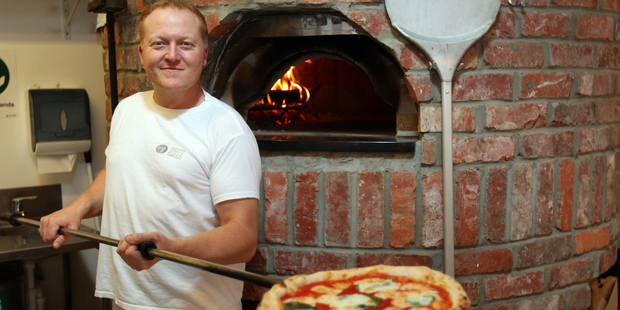 Kevin Morris hated food so much it became his life. Okay, hate's a bit strong, it was more that although he knew exactly what he liked he didn't know where to find it. Which made him the bane of his poor mother's life.
Roast dinners were out, no matter how many extras were thrown in; burgers had to be reduced to a dry bun with meat; fruit was ghastly; and porridge was inedible until he added several dollops of chocolate drink mix.
"I know it sounds bizarre," says the 41-year-old, "but nothing seemed to excite me. I pretty much lived on bread."
The breakthrough came when his mother took him away from London to visit her parents in Italy for Christmas.
If anyone was going to put some meat on his skinny bones it was her father, caterer Dante Avarrno.
He and his wife lived in Genoa, up in the north, but the house speciality was authentic southern-style Napolese pizza.
"Eating, tasting and smelling that pizza is still the strongest memory of my childhood. I just loved it, and my mother was standing over me demanding 'another, another'. From that moment on I just wanted to be a pizza chef, too."
He's told this story many times with the inevitable stock response: "But it's just pizza isn't it?"
No, it's never "just pizza" as far as Morris is concerned, it's a way of life.
"I know they are fast to make, but they're in no way fast-food. I don't think people realise the effort and practice it takes to get pizza right. A margherita looks simple, but if Michelin stars could be awarded to pizzas, it would get top marks every time. It's perfection, you simply cannot improve on it and, despite what everyone thinks, it's healthy. I eat one every day."
It's a passion that has puzzled his mates ever since he immigrated here in 2006. After all, pizza is a cheap and cheerful option when you can't be bothered cooking, it's hardly cordon bleu. So, during one of his regular tirades against the local product one friend broke and suggested he might like to open a restaurant of his own and show us how it's done. "And that was the push I needed."
No one expected him to follow through. Morris was managing a kitchen equipment company at the time.
Then, in 2006, Dante's opened in Kumeu. Which was great but it wasn't enough. Like Champagne, Napolese-style pizza is protected by law and has its own governing body, the Associazione Verace Pizza Napoletana, which stands guard over techniques that haven't changed in 300 years. Morris was determined to join their club.
He does everything by the book. After shipping in a purpose-built wood-fired oven, he began importing Italian cheese and flour (purpose-made to cope with the extra-high temperatures). He hand-crushes his tomatoes, plucks live basil in the shop and ages his hand-kneaded dough for four days before use - Morris says the relaxation effect of this ageing makes his bread suitable for those with gluten-tolerance issues. He even monitors humidity levels to gauge how much water to add to each mix. Then he practised and practised until he could prepare and cook a pizza in the required four minutes.
But his work was only starting. In 2007 there was only one officially recognised Napolese pizza-maker in the Southern Hemisphere and that had only come about when one of the association's judges travelled to Australia to visit his wife's family. No one was planning on visiting New Zealand.
"So I kept emailing them to find another way to make this work until they gave in and asked for video evidence."
This kicked off a year-long letter-go-round, with Morris sending a video by courier then getting a response saying "that bit was good but we want another showing a different angle of you doing this "- on and on it went.
They demanded every little detail of all his equipment, ingredients, health and safety standards, while also scrutinising every step of his dough-handling skills. It got to the point where Morris thought they wanted him to give up.
Then his phone rang at 1.30am one Sunday: "I just heard a voice telling me, "Kevin, you have-a passed."
All he had to do then was pay for a flight to Naples and do everything again in front of them. All up, he spent more than $6000 for a certificate most New Zealanders can barely appreciate, let alone read.
"But it's all worth it because that was just massive, a huge achievement, and it just took me back to being a kid watching my grandfather and eating that first pizza."
He has since moved his pizzeria to Ponsonby, and a photograph of his grandfather still watches over everything he does in the shop.
And since becoming our first certified pizza-maker, joining only 276 worldwide, Morris has been able to help a pizza chef in Wellington follow suit. He's even taken on a Italian protege, Davide Mosea, whose father wanted him trained in a toanga from his homeland.
So, it's been a process that isn't simply about following a dream, it's about living it to an extent that leaves some scratching their heads. But Morris is determined to re-educate us, one customer at a time if necessary.
Much like Pascale, a woman so protective of her privacy and personal space, she refuses to disclose her surname.
In a nutshell, she uses her eccentricity to help others.
Over the course of her 47 years, this Devonport resident has not only spent seven years at sea, gone bush in Tonga, and travelled the world on the smell of an oily rag, she has done it all off the grid. Pascale has no online presence whatsoever and doesn't even have a landline. Yes, she finally bought her first cellphone a few weeks ago, for work purposes, but only four people have her number.
It's all about clutter.
"I had this awakening of being tied to too much stuff. I look at it as stagnant energy and I say that, even as an undercover hoarder myself. Then I came to the conclusion that I don't actually need a whole lot and reinvented my life."
As for computers, if she sees an answerphone as too much of a burden ("I don't need to know the intimate details of other people's timetables") there is no way she'll deal with an email clogged with lols and lols of cat photos.
For years her friends could reach her only through her PO Box or by posting a message in the lost and found notices of the daily paper on the last Friday of the month.
She was seen as something of an eccentric until a few people noticed the transformation in Pascale's life and asked if she could do the same for them. Now, what began as quasi-charity work has become a business.
"People, even hoarders, do know when they're being choked by their belongings, but I've found that you don't get to that state by being a decision-maker, so they ask me to make the decisions for them. It's got to the point where I can smell a hoarder passing by in the supermarket."
The work has taught her a lot about people. Like, hoarders often start by accident.
A friend will give you a present, say a turtle. Then other friends see the turtle, decide that you must really love them and pretty soon it's all you get. In no time at all you've got a houseload of them and you feel obliged to keep every one.
Pascale's been there herself and still maintains a small but perfectly formed collection of miniature perfume bottles that was instigated by an aunt.
"So people feel real anxiety about getting rid of stuff like this and it becomes a process we have to work through together. But I'm not talking about encouraging people to live in sterile, pristine conditions. Homes need to be warm and full of memories, [but] people need to own their stuff, not the other way round."
Over the past few years she's worked with deceased estates, real estate agents preparing homes for sale and the occasional hoarder - such as the fish-hater who couldn't explain the 15 old aquariums in his rafters, the couple who kept their gay son's old toys in the hope he might marry a woman and have children and the unfortunate woman whose home left her with a nasty dose of lice.
Anyway, she's not sure why, maybe it has something to do with the current rash of television shows about hoarders, but her work has blossomed to the point where she can pick and choose her jobs.
But how does she get work without a website and only passing familiarity with her phone?
"Oh, it's word of mouth," says Pascale. Obviously.
And she'd probably have a few choice words if she ever saw Peter Simpson's house.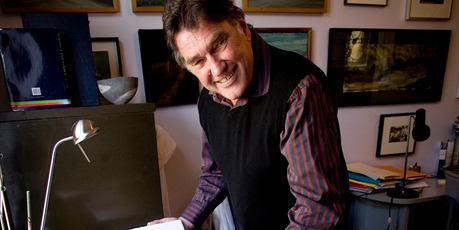 The home of the retired associate professor and long-time head of Auckland University's English department is awash in books and art.
Admittedly, you'd need a hard heart to see them as clutter, but it does reflect an all-consuming love and a collector's spirit.
And, as with the others, he's expressing this part of his life in an interesting fashion.
Dr Simpson publishes books that don't just contain art, they are art in their own right.
He runs Holloway Press, a boutique publishing house that has been associated with the University of Auckland since 1994.
Simpson started with poet and printer Alan Loney, who has since moved to Australia, with the intent of maintaining the fading tradition of fine printing. Instead of bowing to the internet and devices such as the Kindle, the pair dedicated themselves to producing books of such quality you'd be afraid to open them.
It's painstakingly exacting and costly, and in almost 20 years they've published just 35 books. But every page of every book is printed by hand, using a press that bites each letter into each handmade page. Aficionados get their kicks from holding a page up to the light to see the "halo effect" created by the indentations left in the Italian or flax paper stock Holloway Press favours.
One book, the green bicycle, features musical scores by Jonathan Besser, poems by Chris Price, and three original artworks (unique to each copy) by Max Gimblett, and sells for an eyewatering $5000.
Simpson refers to it as his folly, mostly because he is still trying to convince art buyers of their worth as art in themselves. Only 40 were, and ever will be, printed. Every edition is a one-off.
And there is no denying their originality.
Most, such as the green bicycle, came about only because Simpson saw creative sympathies between artists working in different fields and invited them to collaborate and create something unique. So, if he's not creating the art himself, he's inspiring it, which clearly makes the retired lecturer very happy indeed. Especially as his creations now sit within international collections such as the British Library and Stanford University.
He's also getting some overdue recognition with a retrospective exhibition in the Gus Fisher Gallery coming up in July.
Unfortunately, that may be his last hurrah, as the university is ending his funding. But Simpson, while disappointed, isn't giving up and is already looking for a new benefactor.
"Well, it was never going to be a money-making operation ... the emphasis has always been on quality and I think I can say we have made some kind of contribution to this country's culture. I have a few funding possibilities, but I suppose my other challenge is to persuade more people that what we are doing is art worthy of investment."
Much like authentic pizza or a little peace of mind really.