When Ben Crawford and sister Libby renovated the winning house in the first series of The Block NZ, one of the most distinctive features was the weatherboard wall in the living room. Ben explains how this is an example of inspiration he receives from cafes all over New Zealand.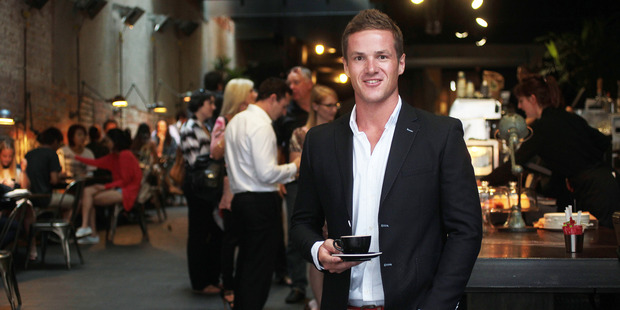 I want to have babies. Imperial Lane's babies to be precise. Some little clones that can be turned into the kitchen and dining areas of my dream home. It won't be a difficult pregnancy but the birth might be, as quality doesn't come cheap. And this central city cafe is dripping with class.
French industrial lights line exposed brick walls and perch on the service counter.
Charcoal-coloured slate tiles lead you through quadruple-height doors the width of the building. Strangers sit around communal tables with dark wooden tops and concrete bases while a row of small circular brass tables attract gatherings of businessmen and best mates alike.
Conversations ebb and flow through the cavernous space mixing with a soulful, jazz inspired soundtrack. The mood is raw, sexy and sophisticated. I want it.
The problem is I want IT all the time. Everyday I am inspired by the stuff around me.
I love it as it is, but I can also see other possible applications. The angles of a sculpture could look great as a minimalist photograph, a digital marketing idea might sprout from the attention to detail on a suit or a cafe may conjure up an aesthetic for a home renovation.
New Zealanders are obsessed with coffee. No doubt about it. Heck, some of us even think we invented the stuff. I'm no different. But I also enjoy the physical cafe experience as much, if not more.
Commercial fit-outs are inspiring. There is a licence to use items in weird and wonderful ways to create a unique sense of place. And cafes are typically the best exponents of it.
It's a freedom often unseen in residential design. Why?
It shouldn't be that way because cafes are wonderful, creative places. They create a sense of community and belonging. They enable conversations and provide places to relax. Just like a home should.
I'm no design expert and I don't claim to be just because I won a DIY show. But I know what I like. In fact I'm in the process of publishing a book about stuff I love by travelling the country, talking to cafe owners and designers and then photographing the spaces they have created.
The book, entitled Built for Caffeine, will showcase the unique interior designs of 20 cafes throughout New Zealand which have inspired me, in the hope they will inspire you, too. If not, it's going to be big and chunky and will serve as a solid doorstop.
As I've been travelling the country I have met some amazingly talented and motivating people. From small cafe owners to furniture designers and commercial fit-out specialists.
I've seen some incredible design, and I have become even more aware of the everyday awesomeness that surrounds us well beyond the walls of a cafe. I have gathered so much material that I could write 10 books.
I could probably even write a weekly column about my discoveries and my thoughts on how everyday things we see could be used at home.
So that's what I am going to do, every week from today. My new weekly column, simply called Design, will appear in Living every Sunday.
To kick things off, here are five things from cafes around Auckland, both old and new, which have rocked my world and made me think, wow, that would look great in a house.

1. Communal tables at Imperial Lane, 7 Fort Lane, CBD
Now back to those babies. I can already see the perfect DNA strands of Imperial Lane's communal tables blending with my own chromosomes to create a dream kitchen and dining area. It has an industrial and oversized edge to it. Raw natural materials are mixed with man made. There's an open conversational atmosphere, fostering relaxed dinner parties with friends or lazy Sunday breakfasts with my future wife.
How would I do it? Firstly, I'd throw away the traditional notion of marble bench tops and Formica cupboards. Sure they look great, but they look great in thousands of other homes throughout the country.
I don't want cookie cutters in my dream home.
Instead I'd try to repurpose as much of the Imperial Lane aesthetic as possible. For the kitchen counters and island that means exposed concrete bases with chunky slabs of recycled native timber on top. Shelving can be added but left open. I want to see the stainless pots and pans complementing the dull grey concrete and bright crockery popping off the muted tones.
I love breakfast so the kitchen island must be massive, with enough room to seat up to eight people all reading a newspaper and buttering toast. It also needs to act as a bridge between the kitchen and more formal dining area, which would exist in identical proportions. Big. The table would be made with a concrete pedestal base and matching timber top, but for a twist I'd paint a large black number bang smack in the middle.
2. Wooden wall at Shaky Isles, 492 New North Rd, Kingsland
Who says walls have to be painted a shade of 'tea' or covered in paper? Just like at school, rules are there to be broken and I, for one, know a wooden wall looks great in a home. In fact the inspiration for the full-length wooden wall Libby and I did in our house on The Block NZ came from the interior weatherboard wall in Shaky Isles.
Being my local cafe, I always took Libby to Shaky when she was visiting. We'd often discussed the personality flowing through the space, particularly the idea of bringing what is traditionally on the outside, inside. Both of us filed that thought away in our heads for when we had the chance to build our own homes. Little did we know the opportunity to bring it to life would happen so soon and be so public.
We entered The Block NZ with the idea of a massive internal wooden wall running the length of the whole house. Luckily the property we chose allowed us to do it. Utilising the old rimu studs provided a nice story and a warm, tactile finish. Importantly, it made
a talking point for the home, which no doubt aided in its desirability during the auction process. It was always going to be a bit of a risk, but the worst thing we could have done would have been to leave people indifferent after viewing the house.
True, it's not going to work in all spaces, but think about what you could do that suits you and your home.
Have a chat to your tradies, they're full of ideas and can provide a different perspective of what is technically possible.
3. Wall graphics at Federal & Wolfe, corner of Federal and Wolfe Sts, CBD
If your home doesn't suit applying exterior materials to the interior walls, or your budget doesn't stretch that far, you can still have some fun.
Take a cue from Federal & Wolfe where the walls are treated as a canvas. Smoothie menus and amusing messages are crafted from stencils in bright blues, vibrant oranges and fluoro pinks. It creates an individual personality for the space in a manner that
I haven't seen before. And it makes me smile.
Cover an entire wall in your own home with popping colours and custom graphics or typography. It's amazing what you can legally borrow from Google. The beauty with paint is you can just cover it over again and create a new look in a matter of hours. Or find an image that has a personal story to you. Go and talk to your local printer and get them to blow it up to huge dimensions and create your own talking point as a hallway wall or kitchen splashback.
4. Transparency in Kokako, 537 Great North Rd, Grey Lynn
Do homes need internal walls? Kokako as a brand embraces the notion of transparency throughout its entire business, and the rubber really hits the road in their Grey Lynn cafe.
By using only exposed framing to hold the internal structure in place, customers are openly invited to engage with the design and chat to the chefs and roasters as they create your brunch or roast beans to deliver to cafes throughout the country.
Imagine applying this logic to your home. How about internal glass cubes for a bedroom or bathroom? Maybe room dividers on wheels providing flexible living spaces, or simply using well-placed furniture to define spaces within a structural shell?
5. Wire artwork in Toru, 136-138 Ponsonby Rd, Ponsonby
There's something to admire about people who can execute an idea right down to the nth degree. When I first walked into Toru, part of the new Ponsonby Central development, I immediately noticed the wire wrapped around the wall to form the cafe's name.
I'd love to replicate that idea at home.
It would be easy to do and easy to personalise. Take the names of your family members, your address, a town special to you or a motivational phrase. It would be wise to map out your words on a computer first and then print them out as a template so you know where to place the nails for maximum effect. Even better, use a projector to scale it directly onto the wall or you could just take my typical approach and go by eye, with a pot of Pollyfilla at the ready. Place the nails around the letters, then wrap the wire around them in a logical flow to create a special piece of artwork.

• Built for Caffeine, published by Beatnik, is due in bookstores during October.
• Check out Ben's new weekly column, Design, in Living.
• You can contact him at ben@libbyandben.co.nz