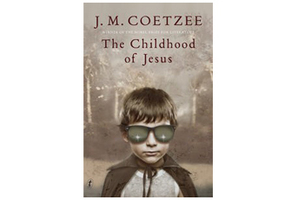 The Childhood Of Jesus by J.M. Coetzee
(Text $45)
A man arrives at some sort of immigration centre, in a Spanish-speaking land.
With him is a 5-year-old boy he met on a ship, then looked after for weeks in the desert. They have new names, strange pasts, uncertain futures.
They're received with calm, bloodless benevolence. People help them, feed them, don't want to know much about them. They're advised to put passions and problems behind them, to be "washed clean", with all the losses that entails.
Security involves forgetting.
It's a world without irony or involvement: even sex is something to be performed "quietly, discreetly".But Simon, the man, doesn't want security; he wants spirit.
He argues for change and risk, for challenges to the meek, meagre calm that permeates his new home. He and the boy disturb people; they bring new words and new demands.
This quiet, haunting novel is built around a series of quests: for livelihood; for the boy's family; for some sense of comprehension and coherence - "what are we here for?"
Quite early on, young David is handed over to the woman who may or may not be his mother. But instead of feeling released, both child and adult feel bereft.
It's a search which takes them towards an ordeal, a journey, an annunciation. The implications of the novel's title become more and more inescapable.
The book brims with symbols. Characters are allegories as well as individuals. Their lives can be read as an image of what happens when we settle for comfort and conformity, and of the terrifying rewards that may come "if we begin making exceptions".
Coetzee's calm, emblematic prose lifts the plot into something redolent with metaphor and mystery. It's the sort of story that can make a satisfying image out of the absence of salt from a table, and a mischievous social commentary out of filling in an application form at a bordello.
Any statement can become a symbol; every event is suffused with potential revelation; something magical is always present and always just out of reach.
A couple of times, the elusive, allusive course of events becomes inert. But overwhelmingly, it's a memorable accomplishment, turning the everyday into the almost everlasting.
David Hill is a Taranaki writer.