My Dear, I Wanted To Tell You by Louisa Young
HarperCollins $36.99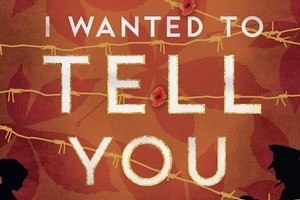 Louisa Young's enthralling novel begins in the gorgeous, leafy light of upper-class Edwardian England where wealthy, bohemian-ish families plan lives filled with art and beauty, and ends in a darkened world transformed by the violence and pain of World War I.
Nothing marks this transformation better than when her main character, Riley Purefoy, back in London on leave, passes J.M. Barrie's "boy who never grew up". Riley thinks of the boys he has seen who will never grow up, their bodies landing in bits on the barbed wire.
There are some stories we tell and retell, and certainly in Young's novel there are echoes of others - Pat Barker's Regeneration trilogy and Life Class, Sebastian Faulks' Birdsong, A.S. Byatt's The Children's Book.
Indeedn, the war was a cataclysm encapsulating so many potent themes of the then-new century that we simply can't and shouldn't - let it go. It's all there, isn't it? The horrors of industrialised warfare, the cracking open of ancient class boundaries, the seizing by women of new ways of seeing themselves.
Within all that are the all-time winners when it comes to a good story: the making of heroes, the deepening of our understanding of what makes a hero, and love's struggle to survive despite epic-scale adversity.
Young's canvas is large and challenging, yet what makes her book so engaging is the warmth with which she writes her characters. They might occasionally appal us - and sometimes skate a little close to being emblems of this or that point of view or predicament - but they charm us too, and they all have plenty of interesting things to say. Through them, the private details of war ensnare us, and the grand themes are made human.
And so, the story: working class boy Riley by chance becomes enmeshed in the wealthy Waveney family, and grabs his opportunity to become Better.
He falls in love with Nadine Waveney, and she with him, but class obstacles seem insuperable and so Riley, at 18, enlists and heads for France in October 1914. Nadine defies her family and becomes a VAD nurse, bringing women's wartime experiences sharply into focus.
The story is mainly Riley's but also follows Nadine and three others: Riley's CO Peter Locke, a kind man stunned and incapacitated by the war; Peter's wife Julia, a beautiful relic of the time-before-the war; and Peter's cousin Rose, who has found a new freedom in her wartime work at Queen's Hospital where the real-life Major Gillies practised his surgical reconstructions on severely damaged servicemen. Riley eventually ends up there, and so the circle of characters is complete.
Cleverly, the final section of the book, about the science and psychology of this physical reconstruction, is as moving and shocking as the more predictable bits about destruction.
Literary fiction? Romance? A bit of both, actually. Definitely one for the book groups, and a really good read.
Margie Thomson is an Auckland reviewer.