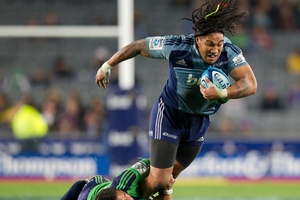 The Blues felt badly let down by Ma'a Nonu after last year but he may return for next season.
Forgiveness and some persistent high-level negotiations may see the All Black second five-eighths back in the Blues jersey but there is still some way to go.
That prospect has gathered momentum as the October 22 deadline for naming squads approaches and the All Black selectors look towards the three-test series next June against England.
There was even more urgency after yesterday's revelation that the battle for the All Black midfield role in 2014 would not involve Sonny Bill Williams.
Blues coach John Kirwan is on leave in Europe but aware there is mounting pressure to give Nonu a second chance in his squad.
That u-turn would require concessions from both parties but especially Nonu after his repeat fallouts with the franchises.
The NZRU and All Black staff know they would benefit if Nonu played here instead of taking up an offshore deal until his All Black contract kicked in once again next season.
The Blues have been sounded out about rekindling their partnership with Nonu and know the rising NZRU desperation means they could sign him with strict conditions in any deal.
It is whether they are prepared to take that risk. They have a young squad, they will have a new captain and cannot afford to be burned again. Picking Nonu would require a huge change in trust and a vacancy.
"I don't think Ma'a wants to come back to the Blues," Kirwan said two months ago..
"I don't think there's a spot here in those positions. We're pretty strong."
Nonu has refused requests to talk with the media throughout this All Black season and has been shielded from those duties by the management.
His fallout with the Highlanders after disconnects with the Hurricanes, Blues and minimal interest from the Crusaders or Chiefs, has caused anxiety and a great deal of lobbying at top levels.
If Nonu goes offshore during the Super 15 it will be another messy episode in his often difficult career and make it impossible to draft him back for the June internationals.
The selectors have used Francis Saili and Ryan Crotty in the midfield this season and could try Tom Taylor there as well or even shunt Daniel Carter out a place.
Nonu has played 84 tests and is one of the rocks in the All Black backline. He delivers for that group but similar judgments have not come from the Super 15 franchises.
They felt Nonu did only so much and did not buy into much of the team cultures.
He promised the Blues he would give them two seasons, shook hands with coach John Kirwan on that arrangement and then disappeared to the Highlanders.
As their 2013 season crumbled, coach Jamie Joseph lost patience with Nonu for his disruptive attitude and his exit was guaranteed. Attempts by Nonu's management and the NZRU to find him a Super 15 base for 2014, floundered.
The Hurricanes had discussions but were not encouraged to make an offer while Kirwan, when questioned about a reunion after this year's series, said there was no place in his squad for Nonu.
The Chiefs have signed No 8/lock Kane Thompson and Wellington lock Ross Filipo for the 2014 season.
Thirty-one-year-old Thompson returns to the Chiefs after missing the 2013 season while in Japan with the Canon Eagles.
Filipo is extending his time with the Chiefs having been with the side last season.
Southland midfielder Cardiff Vaega has claimed the final spot in the Hurricanes squad for 2014.
Vaega signed with the franchise this week, after Wellington Lions lock Mark Reddish also recommitted to the team for 2014.
The two signings round off the Hurricanes' roster for next season, with its wider training group members still to be added.