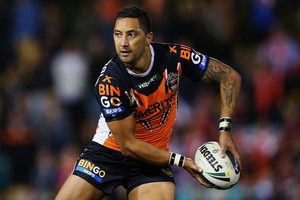 Australian rugby league great Wally Lewis tells a tale about touring overseas with the crack Australian schoolboys rugby side of the late '70s - a team that included all three Ella brothers (Mark, Glen and Gary) among others who would go on to represent the Wallabies.
The Ellas, an admiring Lewis said, were those rare athletes, gifted at all sports but particularly at anything involving a ball. He told how the tourists set up an impromptu table tennis league in the long 'down' hours on tour. The Ellas had never picked up a table tennis bat before. After a few hits, all three were beating everyone - even those who had representative honours in the game.
We are talking exceptional sportsmen here and maybe that's been forgotten in the rush by many to flap gums and wave pens about what a bad signing Benji Marshall is for the Blues.
There's been a wave of negative drivel about Marshall and, by extension, Blues coach Sir John Kirwan.
Typical Kiwis, heading directly to the negatives, have said this about Marshall: He's over the hill; he can't defend; he can't kick; he's only coming because he got snotted off with the Tigers over his contract renewal.
Whatever else you can say about Marshall, there's one thing the naysayers always leave out of the conversation: talent. Marshall is one of those gifted sportsmen who can turn his hand to almost anything.
He's intelligent, can run like a scalded cat, he has pace, vision and an ability to put other players into space. The Blues this year developed a whole bunch of players who can hurt defences - Charles Piutau, Frank Halai, Francis Saili, Steven Luatua and others. They will benefit from Marshall's playmaking.
Okay, his long kicking game, his lateral running and his defence will need work. But he's 28, for Pete's sake, not 48. Is he incapable of doing an Ella with the ping pong bats at 28? Players like Marshall have something indefinable; beyond the reach of we mere mortals. They have time, vision and the ability to sense danger and opportunities in a way that other players don't.
Let's be clear too - Marshall is not coming to the Blues because Kirwan likes taking a gamble. He is coming because there are stuff-all other options.
Beauden Barrett decided to stay in Wellington, leading to the accusation that Kirwan had scared him off with all the Marshall signing noise. Maybe, but it's understood that Barrett was always told he would be the No 1 No10 if he made the switch; Marshall would be a utility and back-up.
More to the point, there were few options in Auckland. The much-flawed Auckland rugby development programme is now quietly acknowledged as a dog. In Gregor Paul's excellent series on college rugby in the New Zealand Herald and Herald on Sunday, he produced the astonishing fact that Auckland's top college rugby competition produced one All Black (Benson Stanley) in seven years - a chilling statistic.
Let's also return to the Ella principle - the ability of top sportspeople to adapt successfully and learn new tricks.
Need kicking coaching? Oh, the Blues have only got Mick Byrne, the All Blacks' kicking coach. Need insight and direct advice on playing good, strategic rugby and defending? That Sir Graham Henry fella knows a thing or two, apparently. Experience on changing codes? Kirwan might be of some use there, changing to league as he did during his career.
This is a useful coaching team and anyone who tries to draw a parallel between this Blues team and other recent versions is, frankly, crapping in his hat. The technical advances in the Blues this year (in a squad of almost painful inexperience and depth) were plain to see for anyone who knows the game - and in some individuals too.
Piutau had all the promise in the world but often made mistakes like losing the ball in contact. Coached that out of him and he's an All Black now. No 8 Peter Saili, branded by many (including this writer) as not being of Super Rugby quality, had a yes-I-do-belong season. There were others - first-five Chris Noakes was supposed to be a bit of a plank but he surprised before fading later in the season and as defences worked him out a bit; another 10 in Baden Kerr exhibited the promise that Kirwan predicted.
Let's be even clearer - the Blues' worst problems are not at 10. They are in the front five and the depth there.
They are missing two locks in Ali Williams and Anthony Boric and there are obvious holes in the front row. No sign of where the cavalry are coming from, either.
So Marshall and Barrett and all that might be inconsequential. However, no one ever won Super Rugby with a poor first five so Kirwan has to keep building. If he does so with a player who draws the crowds to Eden Park, that's a nice bonus.
The reality is, however, that many in the crowd - judging by the most recent comments - will be coming to see him fail. There are those in rugby who do not like league code-hoppers. There are those in league who don't want their players jumping the fence. There are some dedicated misanthropes who aren't happy unless they're miserable.
Marshall is clearly coming for the right reasons - he is taking an alarmingly large pay cut; so big it transcends any resentment he may or may not feel with the Tigers, a club so much in turmoil that they are moving closer to sacking the coach who benched Marshall this season. Marshall is obviously seeking a challenge.
He also reminds me of an Auckland rugby icon: Carlos Spencer. He was another who may not always have done everything right - the other side of the coin of brilliance - but who was possessed of more rugby ability in his little finger than most of us have in our entire bodies.
Spencer's 2004 stroll out to the corner flag to score a try (after he had crossed the goal line between the posts), flipping the Canterbury crowd the bird before calmly kicking the conversion from the corner remains a cherished memory; a display of sporting chutzpah seldom seen in these disciplined days.
The Blues may not win Super Rugby 2014. Marshall may not be a total success. We'll see. But if he brings some of that chutzpah and attacking genius and the Blues make progress and win games by being creative ... that's not a bad second prize.