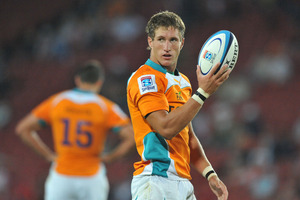 1. Game of the week
It was hard to ignore the potential belter in Christchurch tomorrow night, but this match looks like a powderkeg waiting for a spark.
To say both teams need a win is to say the Titanic could have done with a few more lifeboats. It's probably too late for the Blues to rescue a playoff spot, but the Sharks are still in the hunt.
After their frequent capitulations from positions of strength against the Hurricanes, there will be untold pressure down Durban way on the Sharks to start and finish a job. Who better to play, then, than a team they haven't lost to since 2005.
The Blues will be playing for their embattled coach and their pride. There will be no shortage of heart - what's become obvious, however, is that with injuries to important players, there's a serious shortage of talent.
2. First-time caller
Unadulterated talkback-style opinion ...
"The worst kind of racism is the casual, almost complicit kind.
"The sort where you listen to your mate bang on about there being 'too many coconuts' in the Blues and you have a bit of a laugh, rather than challenging them to back that up with some sound reasoning.
"More than 10 years after Tana Umaga and Ruben Wiki [and Keven Mealamu] should have disproved once and for all that Pacific Island players were followers not leaders, athletically gifted but quick to fold when things were going wrong, we still have this chestnut come up whenever the Blues struggle.
"There is something rotten in Auckland rugby and a lot of it can be traced back to the style promoted at junior and schoolboy level [that's a coaching issue], but the problems have nothing to do with the ethnicity of the Blues' players."
3. Grass is not greener
If you think it's tough being a Blues' supporter, take comfort in the fact you're not a Melbourne Demons fan.
The 12-time AFL premiers have not won a title since 1964, beloved club legend Jim Stynes died of cancer last month aged only 45, new coach Mark Neeld has become embroiled in a racism row with star player Aaron Davey, another star player, Liam Jurrah, has been charged with serious assault that included the use of a machete, one of their principal sponsors, EnergyWatch, has been axed after CEO Ben Polis made racist and misogynistic rants on his Facebook page and they've lost their first two games by 48 and 108 points.
In comparison, life at the Blues is just tickety-boo.
4. Stat attack
The Cheetahs' impressive young first five-eighths Johan Goosen has taken a decent lead in the race to be leading points scorer. He has raised his bat and sits on a Nelson - 111. That's some way ahead of Beauden Barrett (Hurricanes) on 98 and perennial points machine Morne Steyn (Bulls) on 95.
5. Money ball
Herald betting analyst Michael Guerin searches for weekly gems.
Love them or slate them, punters still want to back them.
The beleaguered Blues have been smashed by punters Australasia-wide into favouritism for tonight's emotional clash with the Sharks.
The two teams opened at $1.87 each but the Blues are heading toward $1.75 at home and are already $1.70 in Australia.
"More than 70 per cent of the money has been for the Blues," says the TAB's Mark Stafford. "People are obviously expecting them to get home on emotion."
There has also been huge support for the Crusaders, who are into $1.57 against the table-topping Stormers, even with Dan Carter named at second five.
That is very short because their home advantage is all but reversed by the fact the Cru travelled from South Africa this week and the Stormers have been in the South Island for 10 days.
Bet of the week: Blues at $1.95 to lead at halftime. If they are ever going to start a game angry it will be tonight.
Twitter: @GuerinSports
6. Say what?
"He was cleaning windows when he lost his balance and fell three metres on to concrete taking the full impact on his heels." - Wales Rugby CEO Roger Lewis reports on Warren Gatland's unfortunate mishap. There is no truth to the rumours Steve Hansen was supposed to be holding the ladder steady while Gatty went to work.