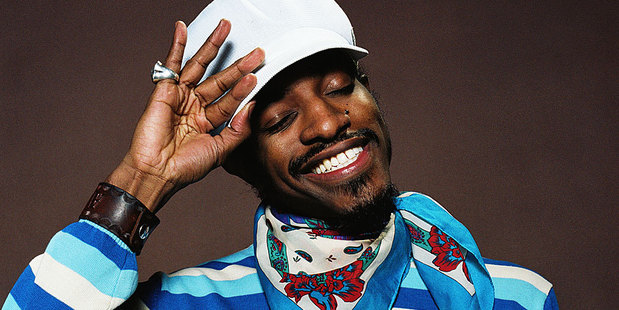 Hey Ya!
OutKast's André 3000 is set to play music icon Jimi Hendrix in a new biopic, according to a report.
The movie, titled All Is By My Side, is currently in pre-production and will start filming in Ireland in three weeks time, the Irish Film and Television Network reports.
According to IFTN, the rapper, real name André Benjamin, will spend six weeks at locations in Bray, Dun Laoghaire and Dublin.
The website says the movie will take in the period in 1966 when Hendrix was discovered in a small New York club by Linda Keith, then girlfriend of The Rolling Stones guitarist Keith Richards. He's then introduced to manager Chas Chandler, who takes him to London, where Hendrix records his debut album, Are You Experienced.
The movie will reportedly be directed by John Ridley, who wrote the script for Three Kings and U-Turn.
The singer has long been rumoured to star as Hendrix in a mooted biopic. He told the New York Daily News in 2004 that he would star as the rocker in a movie to be directed by Allen and Albert Hughes (Menace II Society).
Reports surfaced last year that the Hendrix estate had blocked the project, refusing to licence the late musician's songs.
Another Hendrix project, to be helmed by directed by Paul Greengrass, was canned a couple of years ago, according to Deadline.
According to Deadline's report, Hendrix's estate rejected a package put together by Legendary Pictures.
"Legendary proceeded without our permission, direction or involvement," said Janie Hendrix, president of the Experience Hendrix company. "It didn't 'fall apart,' it never was. When we do the Jimi Hendrix feature film bio, we will be involved and in control from the beginning."
There's no word on whether the estate has finally agreed to licence Hendrix songs for the new biopic.
"Everybody wants to do the movie, but there are so many things that go into a biopic," the rapper told MTV in 2008. "It's kinda like, until you are on set doing it you can't say what's going on."
Benjamin, 36, has previously starred in a string of films and TV shows including Be Cool and Four Brothers.
*Do you think he's a good pick for a Jimi Hendrix biopic?
- Blogger Bites Back