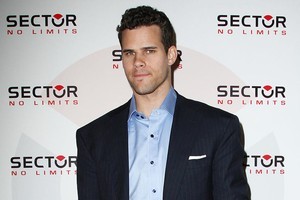 Thanks for the memories, but sue you: Kim Kardashian's estranged husband Kris Humphries is reportedly planning on filing a lawsuit against the reality TV queen.
According to Life & Style magazine, basketball star Humphries has met with a legal team and is set to sue Kim for US$10 million (NZ$13.5m) over his role in the upcoming Kim and Kourtney take New York reality TV series.
"Kris has a legal team investigating his options," a mole tells the latest issue of the mag. "He's claiming his role on Kourtney & Kim Take New York is bigger than he was told, and that's why he wants more money.
"But Kris is also suing because he's really worried about how badly he's going to be portrayed on the series."
According to the scandal sheet, Humphries is "particularly concerned" about scenes that could tarnish his "wholesome Midwestern image".
"Midway through the season, Kris starts bullying Kim's best friend, Jonathan Cheban, about his sexuality," claims the mole.
"Jonathan isn't gay, but Kris accuses him of being gay and criticised him for it in a really homophobic way. Jonathan is really upset."
Humphries "is trying his hardest to prevent the most inflammatory moments from being broadcast," adds the mag.
Kourtney & Kim Take New York will air on E! on November 27. And if Radar Online's recent report is anything to go by, the show will be skewed in her favour.
A source close to the show said Kardashian will be portrayed "as the victim, and Kris will definitely be the bad guy."
Radar reports that Kardashian was "mortified" after watching footage of the show after filming wrapped in mid-October.
"It was hard for Kim to watch all the footage. She has been unable to review it without bursting into tears," an insider told the website.
"[She was] absolutely mortified when she saw on camera the way that Kris was treating her.
"The marriage was already under a tremendous amount of stress, but she just couldn't believe that she had married this man that was treating her and her family like this."
The insider adds that Kardashian, who has full editorial control over what goes into the show, "will be using the show to attempt to rehab her image".
There's been no official word from Humphries on the lawsuit reports.
Watch a promo for Kourtney & Kim Take New York below:
And check out this sneak peek from the upcoming season, showing the newlyweds packing their bags before heading for New York.
Watch your toes curl as Humphries purrs to his soon-to-be-ex: "You're my wife. It's going to take a lot to get rid of me."
Meanwhile, as the 31-year-old celebrity socialite gets a roasting from the tabs over her failed 72-day marriage, sources close to Kardashian are wasting no time in dishing the dirt on their relationship.
According to insiders, Kardashian was justified in pulling the proverbial plug.
In a cover story headlined "Husband From Hell," a pal tells Us Weekly that Humphries could sometimes be "downright cruel" to Kardashian.
"He belittled her in front of people," one "insider" alleged. "He'd call her stupid. It was truly sickening."
The mag spouts that Humphries also resented Kardashian's fame.
The source added: "He tried to control Kim by bringing her down ... He would say truly terrible things. One time, he said she had no talent and her fame wouldn't last."
Us Weekly's source also claims that, wait for it ... Humphries allegedly had a pop at Kardashian's most famous asset, calling her "fat ass".
Oh, the scandal!
But a source from Humphries' camp tells Extra: "The Us Weekly story is completely taken out of context and a manipulation of the media. The show is completely staged; there is nothing real about this reality show. Kris teased Kim a lot, but it was never malicious, and he never resented her. He loved her and still does. Too bad they have to tear someone down to propel their own careers."
Translation: Team Kardashian's in damage control.
Meanwhile, matriarch Kris Jenner reportedly has Kardashian "on lockdown" and has told her daughter to ... deep breaths, Kim... stay out of the spotlight until the backlash over her failed marriage has died down.
No spotlight? Kardashian kryptonite.
A source told Radar: "They did not anticipate the extreme backlash and the damage it would cause to the K-brand as a whole.
"The whole empire has been affected by this dumb marriage and Kris Jenner is all about getting paid."
Fur real
And while the reality TV queen's down in the dumps, People for the Ethical Treatment of Animals (Peta) swoops in for a word.
Kardashian is the new poster girl for Peta, but it's one publicity drive she won't be endorsing.
Peta bosses are targeting the starlet in a billboard campaign that slams her furry fashion choices.
The billboard, which will be prominently placed in Los Angeles in December, shows a fur-clad Kardashian next to a pair of foxes.
The caption reads: "Kim: These babies miss their mother. Is she on your back?"
"Kim knows that animals on fur farms are beaten, electrocuted, and often skinned alive. We've explained it to her, and she's watched a video exposé that was filmed inside fur farms," says Peta Senior Vice President Lisa Lange.
"When Kim is ready to put an end to her relationship with fur, Peta will be happy to take her discards and donate them to the homeless."
Check out the billboard here.
Merry Christmas!
But spare a thought for poor Kardashian - she's totally blown her Christmas cards budget this year.
Shortly before departing on her honeymoon with Humphries, Kardashian placed an order with a high-end stationery store for a batch of Christmas cards featuring a picture of her and her estranged hubby, reports Radar.
"Kim is a planner, and is obsessed with details, and a total control freak. She wanted her Christmas cards to be perfect, and she wanted at least 10 different choices of holiday cards, black and white, matted finish, you name it, Kim thought of it," says a source.
"The proofs were delivered to Kim in mid-September, and she conveyed to the owners of the company that she was very pleased with the results. Kim said she would get back to them with a final choice, but alas, she never did, for obvious reasons."
But a resourceful Kardashian's already found a solution.
"Shooting our family Christmas card today," Kardashian tweeted on Monday. "u guys will love our theme this year. Hanging w the fam is the best!"
- Blogger Bites Back