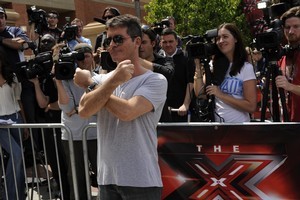 Simon Cowell has reignited speculation about his relationship with fiancée Mezhgan Hussainy after admitting he doesn't know if they are still engaged.
During a revealing chat with American DJ Howard Stern this week, the X Factor boss, 51, also dished the dirt on his youthful sexcapades, and claimed he was once set up on a blind date with Denise Richards.
Confessing to a three-in-a-bed session with two lucky ladies when he was younger, Cowell said: "Do you mean like a threesome? Yeah, years and years ago... I mean a long, long time ago, I was with these two girls and ended up in bed. It was cool. It was a lot of fun."
I bet it was.
Asked if he'd ever bedded more than two women, Cowell replied: "If it's a threesome that's all you can go up to. You mean like a fivesome? That's an orgy."
Too much information. And button-up your shirt.
About that hot blind date...
The music mogul also told Stern he once had a "bizarre" blind date with Charlie Sheen's ex, Richards, 40, when she was eight months pregnant.
"We had a bizarre kind of blind date several years ago," Cowell said. "She turned up eight months pregnant and had a dog in her handbag."
Asked by the shock jock if he found a pregnant Richards to be "a real turnoff", Cowell replied: "A little bit, but she is gorgeous. I liked her a lot, I think she's cute, funny, a bit of a wacko... but I like that.
"We met up afterwards," he added.
Does that mean what I think it means? Wild things, indeed.
Meanwhile, Richards has piped up about the ill-fated blind date, and has a slightly different take on events.
"I was at a group dinner 8mo pregnant not sure how thats considered a date," she tweeted. "News to me! if I was being set up I didn't know it!"
Richards added that if she'd known it was a date, things could have panned out differently.
"Shit I wish I knew that it was a date!!! He's a hot piece of ass!"
Well, play your cards right, and he could be all yours, Richards.
Grilled by Stern about whether he is still engaged to make-up artist Hussainy, 37, Cowell was strangely coy: "I'm not sure."
That sounds encouraging.
"If we were having this conversation off the radio, I could have a normal conversation with you. I do get embarrassed talking about these things publicly."
Stern said to Cowell: "You seem embarrassed by the women you date, and I'll tell you why, they are lovely women, but yet you won't talk about them.
"I'm a married man and if someone asks me a question about her I am proud to admit I have a relationship."
Stern persisted: "Why is the question 'Are you engaged?' so painful to you?"
Replied Cowell: "Like I said, it's something I would need to say to you off the radio. It just is."
Catch a clip of Cowell's convo below:
Cowell's spokesperson, Max Clifford, told the Daily Mail yesterday: "He likes to keep (his relationship) private. In terms of the relationship, it is long distance. He is back in England at the moment, and when he goes back she will be doing things. When he goes back to the States, she will be doing stuff. To my knowledge there are not any problems."
Cowell and Afghan-born Hussainy have been dating for almost two years, and they became engaged on Valentine's Day last year.
So is it all over, red rover?
Added Cowell's rep this morning: "Simon was just making it clear he doesn't discuss his relationships."
Dirty intruder
And over on Idiot Island...the (bath) water's lovely, according to a would-be soaker who allegedly broke in to Celine Dion's sprawling Montreal-area earlier this week.
Daniel Bedard was arrested by cops on Monday after allegedly breaking in, helping himself to a snack and drawing himself a "nice warmish bath," according to police.
Cops descended on the singer's property after the alarm system was set off.
Police spokesman Franco Di Genova told the Winnipeg Free Press: "He opened the water faucets, was pouring a nice warmish bath [and] he even managed to eat some pastry that was in the fridge."
When confronted by police, Bedard reportedly told them: "Hey, guys what are you doing here?"
Di Genova added: "So the officers replied: 'What are you doing here?' and they proceeded to put him under arrest."
Dion, her husband René Angélil and their three children were not at home during the incident.
Bedard was charged with breaking and entering, auto theft and causing property damage.
He obviously wanted to make a clean getaway. Next time he'll 'Think Twice'. Oh, please yourselves.
Diss off
Lady Gaga's perpetual fascination and admiration for Madonna is well documented.
Mother Monster recently gushed to talk show host Jay Leno: "There is really no one that is a more adoring and loving Madonna fan than me. I am the hugest fan personally and professionally."
And while the hoi polloi chew the fat over the obvious parallels between Gaga and Madge's erstwhile artistic endeavours, the burning question remains: What does the original Material Girl and self-confessed hydrangea-hater make of Gaga's love-in?
Not a lot, if tabloid chatter be true.
While promoting her critically panned flick W.E. at the Venice Film Festival last week, Madge was asked by a reporter how she feels about her adoring fans, including Gaga.
According to LeSoir the Hung Up singer sniped: "As for Lady Gaga, I have no comment on her obsessions related to me, because I do not know if it is based on something profound or superficial."
Well, really. Who farted in her handbag?
Madge's long-time spokesperson, Liz Rosenberg, has denied the quote: "This is not true. Madonna did not say anything negative about Lady Gaga during her press conference."
Adding to Us Weekly: "She didn't diss Gaga."
The non-diss-diss follows just days after a video of the pop warbler dismissing a hydrangea from an adoring male fan went viral.
Handed the offending hydrangea by a petal-peddler at the Venice Film Festival last week, Madge peevishly rolled her eyes and alerted the person next to her: "I absolutely loathe hydrangeas," she sniffed. "Obviously he didn't know that."
Re-live the flower-bashing here.
Madge's rep says of the gum-flapping over the video: "The hydrangea incident is so ridiculous. It's not like she said she hated warm chocolate chip cookies and milk and little puppies!
Adding: "She's entitled to like any flower she wants and she didn't want to hurt the feeling of the hydrangeas of the world. No disrespect to the hydrangeas lovers of the world but she prefers different types of flowers."
Baby bliss for Bullock?
Sandra Bullock and Ryan Reynolds are "getting married!" boombed tabloid tattler Star magazine last month. Followed by the mag's headline-hogger a week later that he of the cheese grater abs is "making plans to adopt" Bullock's 19-month-old son, Louis.
Grade A bull, cried reps for both stars.
But despite firm denials of any romantic shenanigans between the friends and former co-stars, OK! magazine's latest cover, adorned with a beaming Bullock, screams: "A Baby at 47!"
"Sandy would love nothing more than to give Louis a brother or sister," says a snitch. "And Ryan could be her ticket to having a child of her own!"
Is Bullock really prepping to have a bambino with newly-single Reynolds?
Erm, no.
Bullock has come forward to trash the tattle that she's preggo with Reynolds' baby, and that the longtime pals are not "romantically involved".
The actress also told Entertainment Tonight that there's no truth to the rumour that Reynolds will be adopting her son.
Blogger's Brief Briefs
This juicy lot just in...
* Paris Hilton in training to become a house DJ. Of course she is. Humour her. She'll want to be an astronaut next week.
* She said what? Kate Winslet talks 'nut sacks' and nude scenes
* Ooh, is Eva Longoria engaged to Eduardo Cruz?
* Jessica Simpson loves the size of her airbags, thank you
* Reese Witherspoon recovering at home after being hit by a car
* She sees dead people: Charlize Theron stars with Grace Kelly, Marilyn Monroe and Marlene Dietrich in new Dior ad:
And it's a wrap. Enjoy your weekends, folks!
Blogger Bites Back