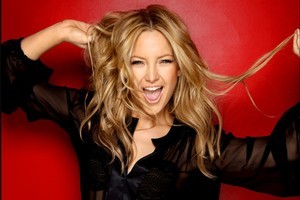 Actress Kate Hudson has finally confirmed she is pregnant with Muse frontman Matt Bellamy's child. But is she, as rumour has it, planning on marrying her baby daddy to boot?
Hudson made an appearance on the BBC's The Graham Norton Show this week to clear a few things up.
Pregnant? Yes. Engaged?
The pair, who met at the Coachella festival in 2010, are expecting their first child together. Hudson is believed to be four months gone.
Rumours were rampant this week that the couple had also secretly engaged.
Britain's The Sun newspaper ran a story claiming the pair had flown into London at the end of last week and "hosted a family party at a London hotel on Monday" to celebrate their upcoming nuptials.
"It was an intimate party," a source said. "They kept their engagement secret as they wanted to celebrate with their nearest and dearest before it became public knowledge."
Hudson, in London to promote her new movie A Little Bit Of Heaven, spoke to Norton about her burgeoning baby bump.
"I'm just starting to pop!" she laughed, holding her tummy.
She also said she has a few names picked out - for a girl.
"We have a couple of names but we're not telling anyone. People tell you so much, it drives me nuts," she said. "It feels like a girl, but I don't know."
As for gossip she and Bellamy, who have been together for about nine months, are planning their wedding...
"No, no, not that I know of! I don't like putting that sort of pressure on it and I don't feel it necessary to get married," she said. "I am 31, I already have one child and have had one divorce, so it is not necessarily the golden ticket. I just want to be happy."
She added, "My parents (Goldie Hawn and step father Kurt Russell) have been 30 years not married, so it's not something I feel I have to do."
Which echoes rather nicely with her stance on marriage when interviewed by British Elle magazine last year.
"It's definitely not something I'm looking for. But the divorce doesn't put me off. I'll just see what happens," she said.
Hudson was previously married to Black Crowes frontman Chris Robinson.
Kristen Stewart as Snow White?
From vampire to fairy tale fodder. Twilight leading lady Stewart is reportedly a hot tip for the titular role in Universal's Snow White and the Huntsman.
The project, to be directed by Rupert Sanders, is currently in the casting phase, according to The Hollywood Reporter, with Viggo Mortensen and Charlize Theron in negotiations to play the Huntsman and the evil queen.
The website also claims that actresses Riley Keough, Felicity Jones, Alicia Vikander and Emily Browning also screen tested, but that Stewart remains the firm favourite for the role.
She broke 50 Cent's heart
One minute they were on, the next she tossed him aside and denied she'd ever date a rapper.
Chelsea Handler and 50 Cent hit the headlines back in October after they were snapped together at a club in New Orleans.
According to UsMagazine.com it all went South just before Christmas. Handler dumped 50 Cent, leaving him "heartbroken."
A source tells the magazine that the rapper then showered his ex with gifts, in a bid to win her back.
"[He] spent Christmas sending her gifts, but she sent them back," claims the source.
With a note attached that said...
"She put a note on one that said, 'I can buy my own gifts.'"
Charming.
Handler told the magazine in early January, "People still think we're dating? No! Really?" She said, adding, "He's sweet, though. I love him, but we're not dating."
Not they're not. Handler has since moved on and is dating Uma Thurman's ex, hotelier Andre Balazs.
Good luck, buddy!
Speaking of all things fierce. There's a major catfight brewing between former porn star and actress Jenna Jameson and Handler.
"Chelsea handler makes fun of peoples kids... Probably because she's a dried up old wh***," Jameson tweeted this week.
"Just cuz I say it like it is... Don't hate... She talks massive sh*t.. Ok, whatever..."
What promoted the fury? Word is Jameson is packing a sad because Handler referred to her as "raunchy" in an interview with Katie Couric for Glamour in December.
"I don't like the word raunchy. I'm irreverent and I say things that a lot of people wouldn't say, and some of it probably isn't in the best taste," said Handler. "But when I hear the word raunchy, to me that describes Jenna Jameson. Look, I'm never going to please everybody."
As for making fun of kids, she said, "I think talking about children and their looks is not nice. Like, unattractive children. I don't do that. And I don't talk about people who are dying. I think that's inappropriate."
Confused? So am I. Jameson, a former porn star, spits the dummy because someone called her "raunchy?" Irony in spades.
No response from Handler as yet. But you can bet your life she'll squeeze in a mention on her Chelsea Lately show tonight.
Blogger's Briefs
This lot just in...
* Charlie Sheen rushed to hospital, rep confirms
* The 2011 Best Picture nominees acted out with Lego
* George Clooney hates Brad Pitt and Angelina Jolie's kids?
* Willow Smith dazzles in Vanity Fair, Annie is a go
* Demi Lovato leaving rehab next week
* Jason Statham premieres The Mechanic in Las Vegas
* Sir Sean Connery busted (in a good way)
* Sharon Osbourne and Dannii Minogue sharpen their claws
And we're done. Enjoy your weekends, folks!
Blogger Bites Back
* Read more celebrity news and gossip from Myrddin Gwynedd (MG) here