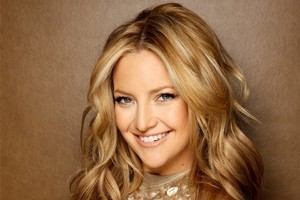 Does she or doesn't she? Have a bun in the oven that is. Word around the water cooler is that Kate Hudson is pregnant.
Us Weekly is reporting that Hudson, 32, is pregnant with her rocker boyfriend Matthew Bellamy's baby.
A source close to the actress tells the magazine, "It was not planned, but they are excited and embracing it," adding that Hudson is about 14 weeks along.
"She is happy for Ryder to finally have a brother or sister," the source claims.
Hudson and muse frontman Bellamy have been dating for about nine months. The actress has a son, Ryder, 7, with ex-husband and Black Crowes rocker Chris Robinson.
The pair met at California's Coachella music festival in April, and have been going steady since.
Hudson introduced Bellamy to her mother Goldie Hawn (more on her coming up) and Kurt Russell three months into their relationship.
"I'm quite nervous. It's embarrassing when you meet someone's family for the first time," the singer said at the time.
He added: "It's a little bit too soon to talk about weddings and stuff. Ask me again in a few months though."
Hudson recently told Elle that she and Bellamy have no plans to marry.
"It's definitely not something I'm looking for," she said. "But the divorce doesn't put me off. I'll just see what happens."
The pair was spotted shopping for rings late last year, so you never know...
People.com also confirmed that the couple is expecting.
"They couldn't be more excited," says a source.
"Kate is really happy. She was always excited to have kids again at some point."
No official confirmation from either of their reps yet.
Hawn's ex plans tell-all
It's all go for the Hudson/Hawn clan!
Goldie Hawn's ex-husband is penning an "explosive" tell-all book about his ex and daughter Kate Hudson.
Bill Hudson and Hawn were married in 1976, and had two kids, Kate and Oliver Hudson, before ditching their marriage in 1980.
Word is former musician Bill is looking for a publisher for his book, tentatively titled So You Are a Star, which purportedly describes Hawn as "a movie star who enjoyed having 'open relationships' and limiting access to their children."
He tells New York Post's gossip column PageSix, "(Kate and Goldie) have said things about me to the press that are untrue, that I abandoned my family. I tried to stay in contact with my children, but Goldie made it impossible.
"Kate has used the story of her being abandoned by me because she needed tragedy in her life. She grew up privileged in Hollywood with private planes. Nobody was going to sympathise unless she had some tragedy."
Bill has had little contact with his kids over the years, claiming he was denied access to his children by Hawn who turned his children against him.
His agent told PageSix, "We are meeting with publishers next week. But the proposal is quite explosive. What he really wants is a relationship with his children and he hopes this will help."
Good luck with that. Hudson once famously quipped that her father "doesn't know me from a hole in the wall."
Oh, the scandal!
Blogger Bites Back
* Read more celebrity news and gossip from Myrddin Gwynedd (MG) here.