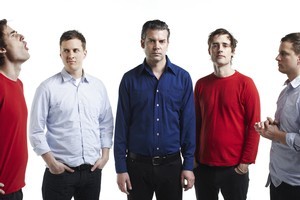 Let's just say there is no love lost at all between former Battles singer, guitarist and on-stage crazy man Tyondai Braxton and his old band mates.
Guitarist Ian Williams refers to Braxton as "the member of the band who's not in the band anymore".
He also blames Braxton for the four-year long gap between their innovative and beautifully unhinged 2007 debut Mirrored and last year's loopy follow-up Gloss Drop.
"He wanted to work on another project, and we waited for him, and so when we started writing this album there was a lot of dragging of the feet from him. And then he decided he wanted to become the lead singer, so he sang on every song on the record.
"And then he left [the band] when we were still in the studio, and so it was really a matter of just taking him off the record and repurposing the instrumental portions.
"So it was a slightly longer passage than we wanted, but in the end it was for the better and what happened had to happen."
So while Braxton won't be with the band when they play their second Big Day Out tomorrow, it will still be like the Battles of old with Williams, guitarist/bassist Dave Konopka, and former Helmet drummer John Stanier making up a tight, taut trio.
It's not that Williams is being mean about Braxton, it's just that he believes Battles was close to losing its identity when the singer took more control.
"We've always been a mostly instrumental band with a few vocals here and there, and we just wanted to return to what we originally wanted to do."
And he's right, because the band's mix of catchy, hypnotic and quite often fruity songs, that bring together an inventive mix of free jazz, thrash, hardcore, Caribbean influences and groove-heavy dance music, is what makes them unique. Their 2007 breakthrough track Atlas was the perfect example with its manic, head-banging mantra - although ironically the song's success had much to do with Braxton's recurring chipmunk vocal part.
And then on Gloss Drop there's the melodic clanging of Dominican Fade, the dark industrial dance of My Machines (with Gary Numan on guest vocals) and the spectral madness of Wall Street ("That song reminds me of rich people partying in the early 80s. Kind of dirty and dorky," laughs Williams.)
Though Mirrored was fun, it was also hard going at times, whereas Gloss Drop is more accessible, with tracks like first single Ice Cream, a combination of off-kilter abrasiveness-meets-noise pop fluff.
But Williams insists they didn't tone it down. "I think we've gone further than Mirrored went except that we were actually able to open it up into a pop song format.
"And we became more sophisticated in the way we created the sounds, and we got more playful and free to experiment."
LOWDOWN
What: Instrumental madness with sonic grooves (and a few vocals thrown in)
Where and when: Boiler Room, 4.45pm
Listen to: Mirrored (2007); Gloss Drop (2011)
-TimeOut