Are you going to the Big Day Out? Click here to send us your Big Day Out 2010 photos to be featured online.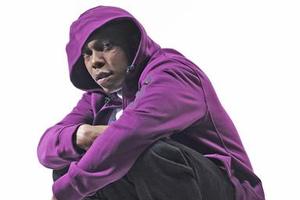 The scene is set for another battle of the Brits at Friday's Big Day Out, with the mighty Muse returning to headline what is widely considered the Southern Hemisphere's biggest and best summer festival. This year the alt-glam rockers take on Kasabian and Lily Allen, but it's the one-time King of Grime-turned-pop sensation, Dizzee Rascal, and dance floor geniuses Groove Armada, who are tipped to light up the Big Day Out.
Dizzee Rascal
Seven years ago Dizzee Rascal was an angst-ridden poster boy for London's hardcore grime scene - the underground voice of a nation's disgruntled youth. Today he's an international superstar, far from apologetic that he's now shed the angry "boy in da corner" facade and embraced pop in all its glory.
The rapper who, this year, is leaving behind the stifling heat of the Boiler Room for the main stage - a sure sign of his leap up the ladder - is still soaking in the success of last year's Tongue N' Cheek, which scored him three number one hits in the British charts.
Swapping expletive-ridden tales of guns and violence for happier upbeat dance-rap numbers, Dizzee (real name Dylan Mills) risked alienating scores of devoted grime followers. But in doing so, he has gained universal critical acclaim.
"It's the best move I could have made," he drools in a thick London accent.
"I'm happy with the new music and the direction it's gone. I've toured the album around England and Europe and I got the exact response I wanted. I feel like a new artist and that's especially good for a fourth album."
After cutting his teeth on pirate radio stations in London, Mills burst on to the commercial hip-hop scene in 2003, when he was just 18, with his first album Boy in da Corner.
The record's arrhythmic beats and high-octane, staccato rapping style, plus some of the most rebellious lyrics Britain had heard since the days of punk, yielded a new generation of hip-hop.
It also sparked controversy when Mills became the first rapper to win - and youngest-ever recipient of - the Mercury Prize ahead of big names like Coldplay and Radiohead.
It was a life-changing year for the teenager who grew up on a council estate in London's East End. He spoke openly of being "a bit of a naughty boy" - expelled from countless schools, committing robberies and stealing cars.
"In the end music was the only option open to me. It was a blessing [and] I pursued it. I put all my energies into it. I didn't care about no other subjects. I'd have just ended up carrying on a life of crime," he told The Guardian in 2003.
Now at 24, Mills is all grown up. And with four albums under his belt he's a happy man. "I'm loving it. It's all I could ask for," he says.
Despite having spent last year playing at most of Europe's major festivals, including a career-defining main-stage performance at Glastonbury, Mills seems genuinely excited about his upcoming trip Downunder. He insists nothing beats the Big Day Out tour of Auckland and Australia. "The last one was amazing for me, man, travelling Australia like that. I'd never toured with a festival before. It was just fun travelling with Bjork and I got to see Rage Against the Machine live. I was looking at photos of it just the other day," he says of his last BDO in 2008.
"That three weeks was one of the most fun times of my whole life. I've never forgotten it. I remember being in the Boiler Room and it was really f***ing boiling," he laughs.
"I remember how intense and how mad the crowd was, and that was before I'd even had the hits."
If Mills has any last-minute jitters about his move from the Boiler Room to the main stage for a prime afternoon slot, he's not letting on. "I'll just do what I do, man. This music was geared for summer. It'll go down perfect."
He has, after all, just made the biggest leap of his career - from underground hip-hop hero to global superstar.
Groove Armada
The dark and sweaty intensity of the Boiler Room is what's exciting Groove Armada.The British beat masters, fronted by long-time duo Andy Cato and Tom Findlay, have undergone a radical transformation since their headlining gig at Glastonbury in 2008.
Although a career highlight, it was also a turning point. "After that we felt we had to rip everything up and do something different because we couldn't really go any further with that sound," says Cato. "The days of the big visual screen felt tired and a bit too 90s."
In the hope of breathing life into the act, the chill-out tunes and killer dance floor anthems which provided the backdrop for a generation of club-goers in the late 90s and early 2000s, Cato and Findlay searched for a vocalist. "We decided to go for a more punky band approach to things and having a central man or woman on stage was key to that. Then we found SaintSaviour - she was the answer," says Cato of the group's new front woman, aka Becky Jones.
Jones takes up the mic on Groove Armada's new live show as well as on the upcoming album Black Light, which Cato describes as the best they've ever made.
"We brought what we've been doing on stage for a long time, that raw energy, and put it in the studio and captured it for the first time. We tried not to tidy it up too much and to keep as much human performance in there as possible."
And those at BDO will be among the first to witness the new-look, new-sounding Groove Armada.
"Our new live set is half made up of songs off the new album. SaintSaviour's heading it up and giving the whole thing a rock and roll twist," says Cato.
While he admits it's always a gamble playing new tracks and unveiling a fresh sound to fans, he says they won't be disappointed. "The second half of the set will be Groove Armada favourites, but like you've never heard them before."
"We've played at festivals from Glastonbury to Mt Fuji to 50,000 people.
"And now we're closing the Boiler Room, which I've heard is one of the craziest live slots that's to be had anywhere in the world. We're really looking forward to it, because there's an intensity about our new live gigs which will really suit it."
THE BIG DAY OUT 2010
Friday January 15th
Mt Smart Stadium, Penrose, Auckland
Gates open 11am
Big Day Out map and timetable [PDF]
* Are you heading to the Big Day Out at Auckland's Mt Smart Stadium? If so, we want to hear from you.
We'd like you to send us your photos from this year's event so we can feature them online.
Please include your name with your photos and - if it's not clear - what the photo is of.
Click here to send us your Big Day Out 2010 photos.