Are you going to the Big Day Out? Click here to send us your Big Day Out 2010 photos to be featured online.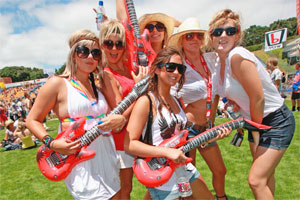 Big Day Out is finally here, so here's a refresher and a quick snapshot of some of the main acts set to blaze at the music festival.
Muse
We last saw these British rockers at the Big Day Out in 2007 when they were sailing on the success of album Black Holes and Revelations. This time we see them following the release of their latest album The Resistance.
Recently named best live act in the world today by NME, Muse have a stranglehold on arena rock and are almost untouchable when playing live. Renowned for their sweeping synth, pummelling drums and extended Piano intros, they have gone from a Radiohead-esque-copy to a band that continues to define themselves by their own standards.
Those of you who remember their BDO performance in 2007 will recall their stunning light show that followed guitarist Matt Bellamy's guitar licks. The prog-rock laser firestorm that is a Muse show should be back this year.
Muse: Official website
Watch: Video clip
Lily Allen
Quirky singer Lily Allen is perhaps better known for her celebrity faux pas than her music.
The daughter of Keith Allen famously 'quit' the music industry in September 2009, says she's broke, and made a cameo appearance on Australian soap Neighbours.
She also managed to nab the Best Track Q award for her single The Fear.
Allen last played Big Day Out in 2007 in a packed Boiler Room and was the standout surprise performer of the day.
Often playful with the audience, Allen is the crowds' best friend; joking and sharing drinks with them. The downside is that in doing so she often underplays her own talent – hopefully she has grown out of that.
Lily Allen: Official website
Watch: Video clip
Groove Armada
The two piece London beat-duo of Tom Findlay and Andy Cato look set to play some of their much awaited ninth album at the BDO.
After over ten years together and eight albums to date the group are known for their happy-go-lucky poppy dance tracks and have a new album for release later this year.
Recent reviews of the group live have called the new material "glorious and nothing like whatever preconception you may have had of Groove Armada."
The group will be coming off the back of the Lovebox Festival, which they organise, and should be looking forward to the freedom of just playing music.
After over ten years together the duo say they want to reinvent themselves, so expect the unexpected.
Groove Armada: Official website
Watch: Video clip
Dizzee Rascal
Dizzee Rascal, real name Dylan Mills, is the face of grime.
Grime is one of the more recent trends in hip hop - incorporating dance, electronic beats and a mix of genres to become a kind of dance-hall-rap. And this is where Dizzee excels.
When he was last on our shores in 2008, Dizzee won over many fans who first thought the ambassador of grime was an odd choice for the BDO.
Coming off the back of his fourth and number one chart topping album, punters will recognise high energy singles like Dance Wiv Me, Bonkers, Holiday, and his older stuff like the classic Fix Up Look Sharp, Jus' a Rascal and the monotone of Dream.
Self-proclaiming to be "one of the bigger names in hip-hop, period", even if you don't like Dizzee, you will certainly know the hits.
Dizzee Rascal: Official website
Watch: Video clip
Kasabian
Kasabian return to New Zealand after playing Big Day Out in 2007.
Anyone who can remember the massive late-afternoon main-stage-size crowd the band pulled will recall seeing the best kind of British rock and roll.
Full of synth-driven British-swagger, the club rockers know how to get a crowd going and frontman Tom Meighan is every bit the on-stage equivalent of a modern Mick Jagger.
Heralded as a glorious synth-tinged melting pot of indie rock, Kasabian, once under the shadow of musical giant Oasis, have finally come out on their own with their third album West Ryder Pauper Lunatic Asylum.
Unlike most rock bands Kasabian thrive when using digital technology. Most of their tracks are based around samples and loops – they even used a hip hop producer for their album – and most band members are dance music fans.
Most widely recognised for their single Shoot The Runner, other songs to listen out for are Vlad The Impaler, Processed Beats, Reason Is Treason, Empire, and Underdog.
Kasabian: Official website
Watch: Video clip
Girl Talk
Gillis (otherwise known as Gregg Michael) is a musician known for his mashups - a combination of songs arranged to create a new track.
His first album Night Ripper sampled over 150 artists on only 15 tracks and mixes the lyrics of Notorious B.I.G with the melody of Elton John's Tiny Dancer.
His latest album Feed The Animals was named by Time as number four in the top 10 albums of the year for 2008, Rolling Stone ranked the album number 24 in their top 50, and Blender rated it the second best album of 2008.
The Laptop magician known for losing clothes and breaking computers will be one of the must-see acts of the day.
Girl Talk: MySpace page
THE BIG DAY OUT 2010 - Friday January 15th
Mt Smart Stadium, Penrose, Auckland. Gates open 11am
Big Day Out map and timetable [PDF]
* Are you heading to the Big Day Out at Auckland's Mt Smart Stadium? We'd like you to send us your photos from this year's event so we can feature them online.
Please include your name with your photos and - if it's not clear - what the photo is of.
Click here to send us your Big Day Out 2010 photos.