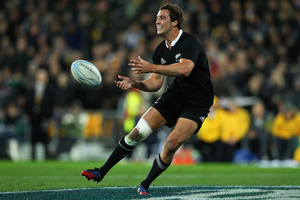 Finally we are starting to get some fairness at scrum-time with halfbacks required to put the ball in straight.
About time too. Now scrums are a contest, as they were intended to be, instead of a restart with angled offspin deliveries from the halfbacks.
The "crouch, touch, set" preamble before the halfback can feed the scrum is a bit tedious though. Why he has to wait for a command is mystifying - it's either straight or crooked with consequences, just like lineouts.
The eyesight of referees is often questionable, an affliction that also affects their assistants. Do those white sticks holding their flags signify something about their failure to spot forward passes?
Sanzar referees boss Lyndon Bray tried to justify how passes can be flat yet travel forward and are therefore not illegal. You can buy that.
However there were frequent cases of passes thrown forward in the Super 15 and not being detected or worse still waved on as legitimate, a disease now affecting test rugby it seems.
Assistant referees should be stripped of their titles for their lack of rulings and their need for conferences to make decisions.
Let's call them touch judges again because that's all they seem comfortable doing. That and the occasional trembling flag wave when someone looks as though they've put a boot near someone else.
Early on Saturday night, Lourens van der Merwe missed one forward pass from the Wallabies while another from Ben Mowen to Genia was equally illegal.
Not a peep, despite referee Jaco Peyper later pulling up the transfer from Tom Taylor to Ben Smith which was close but forward.