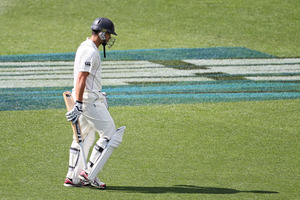 That's what happens when you sweep something under the carpet. It rarely disappears; it just gets bigger and bigger until you trip over it.
So it's been with NZ Cricket in the Ross Taylor affair. For all the NZC huffing and puffing about Taylor's strange remarks immediately after a rare high spot for the Black Caps, it is clear that the scar tissue is still sensitive - and still self-inflicted.
Many people will be wondering why Taylor chose the aftermath of the uplifting Eden Park test against England to make it clear the wound has still not healed. Some are critical of him for spoiling the moment; for raising a negative when the team had performed positively under new skipper Brendon McCullum.
The latter has quickly shifted public perceptions of him as a peacock of a man who cared only about money and himself. He is now seen as a leader who has knitted this team together and given them what Kiwis had been baying for - fight. Coach Mike Hesson's removal of McCullum as opening bat has been a success; he now looks like a man who has found his true place.
McCullum's captaincy has appealed to New Zealanders. His con job on England captain Alastair Cook, saying publicly that he'd bowl at Eden Park if he won the toss, may have helped Cook opt to bowl - a decision former England bowler and now cricket writer Derek Pringle called "the worst insertion in England history". It was cheeky, nose-tweaking stuff. McCullum brought part-timer Kane Williamson on at key moments to snare crucial wickets; his style was not the bull-in-a-china-shop that his captaincy critics predicted. Bartender, a pint of redemption all round ...
Except, perhaps, for one man. To explain that, sadly, we have to go back to the genesis of 'Taylorgate' - the artless removal of a captain during the tour of Sri Lanka last year. McCullum's success as skipper has only underlined what nearly everyone has said: the issue was not Taylor's removal nor McCullum's succession but the way it was done.
NZC's position was that Taylor would be relieved of short-form captaincy duties but was offered retention as test skipper. Taylor was adamant he'd been sacked as captain in all three forms of the game. Asked by interviewer Brendan Telfer whether someone within NZC was lying, Taylor said: "Definitely." Hesson, asked about the captaincy dispute last year, said: "It's unfortunate that he [Taylor] felt that way and that was certainly not the intention. When the recommendation was made, it was that Ross Taylor remain as captain of the test side and that was what I sent to the board."
NZC apologised to Taylor for the way things had gone down. Chairman Chris Moller said: "The board ... wishes to publicly place on record its apologies to Ross Taylor and his family for the manner in which events have unfolded."
The issue of whether Taylor was offered the test captaincy was never resolved. It was described by NZC as a "miscommunication" - a vague term which can cover a multitude of sins - but there was no clear definition of who was right and who was wrong. This is the bone of contention still being chewed on.
Taylor had a break from the team and then returned. A century in the one-dayer in Napier seemed to herald a successful return to the ranks. Then, as the Herald on Sunday understands it, Black Caps batting coach Bob Carter approached Taylor before the Wellington test against England, offering his apologies on a personal level. Carter, Black Caps' manager Mike Sandle, Hesson and Taylor were the only people in the room at Galle when Taylor was told of his removal; they are the only ones who know the truth.
What has now begun to trickle through is the effect of Carter's apology on Taylor. Immediately before the Wellington test, it appears to have had a deleterious impact on Taylor.
There is no suggestion Carter intended any harm, quite the reverse. But it begs the questions: Why now? If Taylor has already had an apology from NZC, what was Carter apologising for?
It's understood that Taylor, previously making his way back into the fabric of the team, then fell into a slough of despond. Sources close to Taylor say his head was not right for test cricket. He went out first ball in Wellington, though he fought hard for a 41 not out in the second innings. But, in a team that looked unified and hung tough at Eden Park, Taylor seemed a man apart. His form was scratchy, disjointed, almost distracted. New Zealand's premier batsman looked not at all like that.
Taylor, unhappy with the whole topic being raised again, found his poor relationship with Hesson - they apparently barely speak - brought into stark contrast again. When the question was asked of him on radio, he spilled the beans, emotion maybe winning out over caution. He could have 'kicked for touch' but instead just kicked ...
Some, maybe even many, will say he should now either put up or shut up. However, this is clearly a man who feels, rightly or wrongly, that he has not been protected and that, in closing ranks round the subject, NZC have trodden on his integrity.
NZC, for their part, have an understandable wish to leave this matter behind. If you want an illustration of how much they are lifting the carpet on this one, have a look at the story which details how NZC sat on Radio Sport when they interviewed Carter on the subject.
So there's the lesson for all sports bodies, a group of organisations for whom the first thought is often to cover up, not 'fess up. Stand up straight, confess your mistakes, all of them, and say what you'll do to put matters right. Then do it. Only then can there be closure and healing.
No matter what you think of Taylor's statements, there can be no doubt. NZC brought this on themselves by not sealing all the gaps.