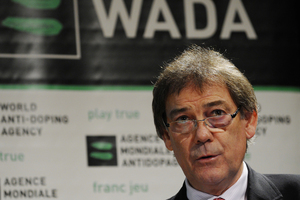 World anti-doping agency director-general David Howman admits it - they are never going to catch everyone who uses peptides.
It is a chilling assessment and also brings into focus the performance-enhancing drugs du jour. Peptides are used in association with human growth hormone (HGH). They release HGH through the body, aid muscle and bone growth and injury recovery.
They have similar effects to anabolic steroids but are harder to detect. There are many kinds, some of which increase natural testosterone.
Peptides rapidly metabolise, meaning they quickly can't be traced in athletes' systems.
"At this point, you are never going to catch everyone who uses peptides," Howman says. "It's not my place to say whether those who are caught deserve criminal convictions but every country has laws against trafficking illegal drugs for sale. Use those.
"I don't think anyone should be using supplements for starters. It's too easy to get into dangerous territory because of the lack of regulations in the US.
Some of them intentionally put banned substances in there.
"I also have an issue with the staffing situation in Australia around teams. The more you have, the greater the chance of employing a bad apple."
Howman admits doping control is likely only to have limited success but needs to be a threat.
"You have no traction until you have controversy. Relying solely on a testing programme makes no sense. You end up with scientists capable of beating the system when the product is difficult to test for. You need other ways to strike, like through the shipping of drugs across borders.
"Already, there are great enforcement agencies - the trick is to share information. That's what's starting to happen in Australia. Sporting bodies need to ensure they make use of them, otherwise the criminal underworld will take over. Sport is becoming the coalface of crime while bad guys work in the background selling drugs and fixing matches."
The avalanche of doping confessions, accusations and investigations also has Drug Free Sport New Zealand on red alert. They are working on strengthening detection methods to catch cheats.
DFSNZ boss Graeme Steel says they need to be more targeted in testing. The main trigger was cyclist Lance Armstrong never getting caught; his admission was forced through team-mate testimony.
"That's a reminder we're not catching every cheat out there. In addition, there are too many fringe athletes caught using bad supplements without knowing everything they should about the process.
"For the most part, we're dealing with brilliant New Zealanders who are great to work with but, at the moment, it feels like we're dragging a drift net across all sports. We're working on a significant rejig to better identify likely targets. The aim is to identify the personality profile of a doper compared to a normal athlete."
A six-point plan has been enacted which focuses, among other things, on better collaboration with national sporting bodies and using wider intelligence agencies like Customs and medical regulators Medsafe.
While New Zealand's drugs testing regime suggests a relatively 'clean' reading for New Zealand sport, Steel says recent revelations mean they need to tweak their operations to test its thoroughness.
"We believe it's important athletes are subject to a state-of-the-art programme. We want to ramp up blood testing [over urine testing] and continue to focus on sports which require high levels of strength and endurance like rugby, cycling, rowing and athletics.
"Contrast that with football, netball and cricket where strength and endurance aren't required to the same degree. Strategy, teamwork and tactics are also important. It's hard to dope to improve those qualities.
"We also look at what sports New Zealanders play most at a high performance level. Take netball; [unlike most other countries] it is a career path in New Zealand, so we need to be stringent.
"Also, a stimulant can still help in cricket. If a batsman makes 60-70 runs in a T20, they're knackered and, if performance-enhancing drugs can help a javelin thrower, they can definitely help a fast bowler."
Rugby is likely to be forensically examined, even at secondary schools, as competitions morph into bigger businesses.
"Rugby is a prime target where performance-enhancing drugs enable you to train harder and quickly become bigger, faster and stronger, which can affect your earning power if you choose it as a career," Steel says. "We need to be confident those playing fields are clean."