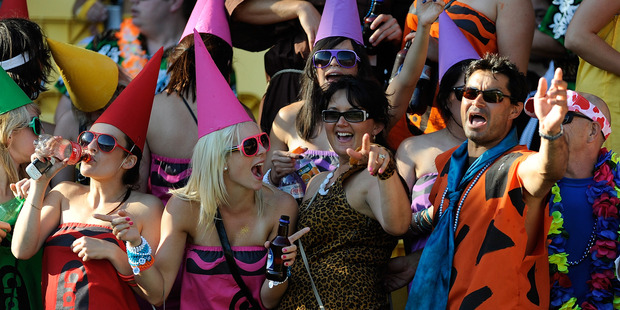 That's what happens when you promote sport as out-and-out entertainment. Let's all dress up like silly buggers, drink far too much, dance to the music, mostly ignore the Wellington sevens and behave like naughty children. Pass the tequila slammers, will you?
There's a danger, in writing this stuff, of sounding like the fun police - but it was hard not to laugh when the Wellington sevens organisers slammed on the brakes ahead of the tournament with a bit of a PR offensive on how to have a good time; just not too much of a good time.
Apparently, the IRB reps at the last Wellington sevens were none too impressed with some of the drunken and boorish behaviour (from both sexes ... ). Now that sevens is an Olympic sport, some gravitas is sought. The emphasis is going back on the sport. How quaint.
Problem is that for years, the Wellington sevens has been marketed as one great, unholy party. Dressing up has been encouraged. Drinking has been encouraged. As a result, some dubious behaviour has been permitted to pass when, on other days, it might result in a night in the cells.
The police are in an impossible position. They have to be in a party mood too and grin at people they probably feel like truncheoning; not spoiling things by arresting irritating drunks who think they are being terribly amusing and "just having fun" when the reality is they are so Brahms and Liszt they are almost embalmed and/or highly objectionable.
The issue for the organisers is that they have to make the event interesting enough so good crowds turn up and the IRB doesn't take the event away and give it to the likes of Argentina. Sevens is, let's face it, also an event which has inevitable progressions (for the most part) on the first day. The main event is interesting but those there for the party rather than the sport tend to focus on things other than the Plate or Bowl competitions.
Up til now, they have solved both problems by turning Wellington into an even bigger party than the legendary Hong Kong sevens, the grandaddy of such tournaments and the inventor of the concept of the crowd being almost as big an element of the tournament as the actual players.
Almost. In Wellington, the crowd have become a bigger part of the action - and therefore the problem - than they should. There were 40 arrests on Friday night. Various commentators, among them Keith Quinn and John McBeth, have noted the scale of drunkenness; last year Quinn called for a dry zone in the Westpac Stadium concourse from late afternoon to early evening during the tournament. People could buy alcohol in the concourse but would have to take it back in to the stadium to drink.
The organisers this year tightened the policy on alcohol, introducing wristbands for ticketholders 18 and over. Fans were only able to drink at the stadium if they had a wristband supplied on entry; anyone caught smuggling alcohol into the event lost tickets for both days of the tournament. Obviously drunken fans or those being a nuisance had wristbands confiscated and/or were ejected. It was a promising start - but the concern of many is what happens when revellers are tipped back into Real Life outside the stadium.
The issue is that many don't give a monkey's about sevens. Some couldn't care less about sport.
I bring you these comments from two women who gained exposure in a Wellington newspaper for dressing up as Little Red Riding Hoods. They had lace-up bodices, micro-skirts and white stockings which ended halfway up the thigh. They looked like they were auditioning for the fantasy section of the Chow brothers brothel. There were six of them, they said, with four guys accompanying them dressed as Big Bad Wolves. Oh, the fun ...
"We'll be watching a bit of rugby," said one, "meeting heaps of new people and seeing everyone else's costumes. The rugby probably won't be a highlight, but we'll definitely be enjoying it at times."
That, right there, is the problem. The marketers have done their job. Now they have an altogether more difficult task to drag the event back from being a sort of fey Mardi Gras, complete with a solid mass of drunks, to a sports tournament.
Before anyone accuses me of being a grinch, in my time I have played in three (low level) sevens tournaments, been on an organising committee which staged several and attended many. At one overseas venue, a sponsor donated bags full of little rugby balls. We discovered these flew straight and true when thrown correctly and bounced in a particularly attractive style off the heads of Australians. Drink may have been taken. We enjoyed this for some time until the police arrived and - with one of those pained smiles which you know means they would far rather be tasering you - asked us nicely to stop. We did.
So I know a little about a good day out, drunken fun and laughs. But when the costumes, the drink and "fun" start to take over the joint, it's time to re-think. The organisers are doing so and it will be interesting to ponder the aftermath this year.
Particularly in the wake of the latest Zac Guildford episode when a young man who obviously has alcohol problems allegedly punched the wrong bloke. Binge drinking has long been identified as a problem in this country, particularly among young people.
So what do we do? On the one hand we go tsk, tsk, tsk at the likes of Guildford. On the other, we put them in a stadium, in fancy dress, turn up the music and tell them to go for it. Go figure.