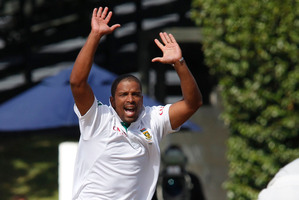 In the wash-up to the horror first test, South Africa's players were generally respectful towards their opponents.
They could have been forgiven for cracking gags at the true hopelessness New Zealand exhibited over the opening day at Newlands.
However a couple of off-hand comments from pace pair Vernon Philander and Dale Steyn hinted at New Zealand being held in rather lower esteem behind closed doors.
When Philander was asked if there had been much chat directed at the New Zealand batsmen as they tumbled to their third-worst total ever in the space of just 19.2 overs in 100 gruesome minutes, man of the match Philander remarked: "You don't have to say much if they're 45 all out."
When world No1 bowler Steyn was asked a similar question, he admitted he had pondered offering some advice to the batsmen, "but it wasn't worth it. The ball was doing enough talking".
That zeroes in on one of the main challenges facing New Zealand ahead of the second test in Port Elizabeth: how to go about regaining lost credibility in the eyes of their opponents.
South Africa's captain, Graeme Smith, has talked of his team's respectful and humble attitude towards test cricket, of taking nothing for granted.
But deep down, what must they, a proud, hard-minded cricket team, have thought as they could doubtless scarcely believe what they were seeing.
Sure, Australia tumbled to 47 on the same ground 13 months ago.
But Australia's flop was written off as an aberration, and they bounced back immediately by winning the next test in Johannesburg and have a trunkload of achievement to lean on.
New Zealand's two gold-plated wins in Hobart and Colombo, which effectively bookended Ross Taylor's reign in charge, are seen as fine wins, but one-offs.
So how can New Zealand change South Africa's perception of what they're going to face in Port Elizabeth? There's only one way and it's going to require a massive shift in quality of performance and testing their hosts through five days.
Not only did the specialist batsmen have their hands full, there was the depressing sight of tailenders Jeetan Patel, in particular, and Trent Boult stepping away to Steyn, clearly unwilling to face the chin music.
Patel, as No9, was expected to produce some runs. Having been clunked by Steyn his nerve failed him. Now if he is chosen for the second test, he's a busted flush. South Africa, Patel and everyone watching will know how they will attack him. Rival spinner Bruce Martin is uncapped, but scored a first-class century for Auckland against Northern Districts in November. It's also a reason why Otago seamer Neil Wagner might be considered. He can bat in a doughty, stubborn way.
It's certainly not the main reason to select them, but should it be a factor in the selectors' thinking? Right now, every little bit could help.
With Patel, Boult and Chris Martin rounding out the innings, New Zealand's batting stops at No8 and even there Doug Bracewell - averaging 11 from 14 tests - is woefully under-performing with the bat.
He's reached 20 once in his last six innings, four of which were scores of two or less. Not good enough by half.