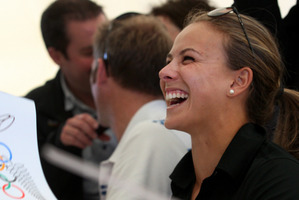 This is not intended to alarm, but we seem to have been invaded by a cheerful brigade of blazer-wearers.
Every time you turn on the telly or, if you're more refined, open a newspaper, you can't escape them. Dressed in their snappy blazers they're handing out trophies at sports events, popping up on breakfast telly, visiting schools, sitting in the front row of fashion week, and extolling the virtues on an iron-rich diet.
Yep, our Olympic stars have certainly been riding the wave of publicity since they returned from London.
There have been a few mutterings that it is all a little bit of overkill. I say long may the party continue.
Previously, we're parachuted in every four years and delivered wall-to-wall coverage of our Olympians in action, only for them to disappear from public consciousness before the confetti from their heroes welcome has even been swept up from the linoleum of the airport terminal.
For two weeks what happens in the pool, the athletics track, out on the rowing course and even the hockey turf is more important than Dan Carter's injury woes and the dissection of an awful Warriors season.
But just as quickly we're transported back to the monotony of the endless procession of rugby, league and more rugby, while our Olympic stars head back to their gyms and oxygen chambers to plug away in obscurity for another four years.
This time, Olympic fever has continued to bubble away with our amateur athletes remaining firmly in the limelight.
What is most heartening is to see our female sports stars such as Lisa Carrington, Sarah Walker, Jo Aleh and Olivia Powrie maintaining a high profile since they returned from the Games.
And it's not just on our shores that female athletes are being celebrated with increasing vigour.
It seems to have been reflected worldwide with the likes of British stars Jessica Ennis and Victoria Pendleton, United States teen sensations Gabby Douglas and Missy Franklin, and, across the Tasman, Anna Meares and Sally Pearson all becoming household names in their respective countries.
In London, the women dominated Olympic coverage with their talent and grace, proving to young girls they can have a successful future in sports and someone will care enough to talk about it.
But there were doubts over whether women's sport could build on the undisputed successes of the Olympics.
While enjoying equal billing at the Games, female athletes highlighted the struggles they face outside the Olympics in generating interest in their sports from audiences and sponsors.
What we've seen since then gives cause for cautious optimism that 2012 might just be a breakthrough year for women's sport.