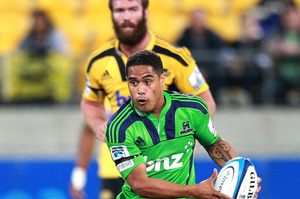 Players aspiring to a job at the top will have to step up their performance level over the next five weeks.
Gidday Kamo,
Who would be your picks as possible All Black debutants this season?
Richard Doherty
Those aspiring to be All Blacks, Richard, now have to step up their level of performance and prove they can maintain it in a pressure situation - which the next five weeks will be - before the first All Black team is named. Players to impress me so far have been Brodie Retallick, Karl Lowe and Aaron Smith. While not technically a debutant, I think Ben Smith may also be in line for a recall.
Hi Kamo,
I have heard you in previous discussions mention you like the look of the young lock Liaki Moli at the Blues. Personally I would like to see him developed as a No 6 for the rest of the season to take over from Jerome Kaino.
At 194cm he is not really international lock height, but the kid can run, hit hard in a tackle, is a good lineout option and has a huge work rate. I think this could be an opportunity for him for future promotion. What are your thoughts?
Cheers, Tim.
I could see that working, Tim. I think Liaki's mindset to rugby would complement that tight/loose role where he is not afraid to hit rucks and throw his body around and at the moment he has a perfect mentor to study in Adam Thomson, who is a similar build and height. Let's keep an eye out for him during the NPC.
Kamo,
Does the fact that Sonny Bill has turned up for rugby this year in supreme physical shape and is playing out of his skin prove he can indeed handle boxing and rugby? And, as such, does it mean his boxing should be a non-issue looking ahead to his future here?
Jase
Jase, contractually SBW's boxing is a non-issue with his employers, the NZRU, and that is where it stops. In any relationship, trust is the key and the Chiefs have been repaid handsomely with Sonny's form when they allowed him time out during the preseason.
From what I have seen with SBW completing his rugby commitments during the day, and concentrating on his boxing at night, this marriage between two contact sports has no reason not to continue.
Ian,
I am appalled each week that referees do not take any action against players who deliberately foul another player after that player has successfully scored a try.
Try-scoring celebrations take over after this and all is forgiven/forgotten, but what can referees do about it? As a couch potato, who can I contact in rugby circles to raise my concerns?
Cheers, Allan
Allan, when you are out there competing you have always got a chance. I would rather see a defender try anything and everything to dislodge the ball and prevent a try than to let the ball carrier waltz over unopposed - that is not what our game is all about. But if you want to vent with someone you could try Lyndon Bray, the Sanzar game manager.
Hey Kamo,
I've been wondering about what would happen when the new Super 15 team the Kings come into the competition. I know that they have to give one of the teams the boot, which will most likely be either the Cheetahs or Lions, but what happens to all the players in the team that do get dropped?
If for example the Lions get dropped could they join forces with the Cheetahs and then build up a competitive team that can win against tough opposition and make the SA conference more interesting?
Thanks, Drew
You raise a good point Drew, and one I am sure our own rugby union and the players association are glad they don't have to answer. You would assume the new South African franchise the Southern Kings will understand the importance of having seasoned professionals at this level and will recruit in big numbers to boost their squad. Outside of that, it will be a free market for the discarded players who could go anywhere, including here, if our coaches think they are good enough.
Hi Kamo,
With the resetting of scrums and the frustration to the onlookers that all this time is boring and takes up playing time which we pay to see, why isn't the clock stopped until the ball is placed in the scrum by the halfback?
Tomkin
Tomkin, we are getting there with reset scrums with far fewer in this year's competition than last which is a real positive. With regards to stopping the clock, I can't see how this would work as we would have no uniform time in a game of rugby, with one game containing 30 scrums going for 10 or 15 minutes longer than a game containing 10.