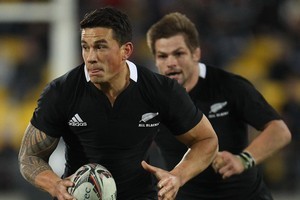 A Rugby World Cup wishlist
1. Individuals shine
It would be nice to think that whatever the tournament outcome, we can enjoy and look back on characters and magical players who force their way into the limelight past the phase counters and ruck interpretation specialists. In an ideal world, they wouldn't automatically come from the leading lights either. On this score, to use an example from another sport, someone like Roger Milla, the Cameroon soccer player who brightened the 1990 World Cup, springs to mind. The obvious rugby example is Jonah Lomu, who captured the imagination in 1995 and 1999. Argentine Agustin Pichot did his best to fire up the last tournament, against overwhelming odds, it has to be said. No offence, but drop kicking first five-eighths, while meritorious in their own way, need to be overshadowed. Sidesteps. Speed. Wizard passes. Big hits. Offloads. Good old X-factor. Let's have real stars on centre stage.
2. Samoa, Tonga and Fiji find their best form and genuinely challenge in the final stages.
This is not to denigrate the more stoic methods of teams such as England, South Africa and Argentina - the beauty of world tournaments includes clashes of styles.
Trench warfare rugby at the highest level can also be riveting stuff. The World Cup does need something beyond this, though, and the 2007 tournament was mainly drab. Much of what occurred in 2007, when kicking dominated, involved players running out of options more than exploring them.
The Pacific Island teams are good enough to be more than fairytale prospects, as Samoa revealed against Australia.
The PI teams have an exhilarating, emotion-charged way of playing that can lift the atmosphere of this tournament, especially in front of what are virtually home audiences.
3. Further to the above: The stereotypes about Pacific Island teams need to be quashed.
They are professional, skilled footballers - not wild men out to take people's heads off as has already been suggested.
The referees also need to take note - the PI teams should emphasise this message to the whistlers or else they risk getting whistled out of contention.
4. No more haka stories.
A forlorn request, of course. Of the first 10 rugby stories on an English newspaper's website yesterday, three were about hakas. Rugby is haka-obsessed.
5. Referees strictly police the offside lines.
They must set the tone early on, and coaches and players take note. Don't hold out much hope here, unfortunately.
6. If the ball comes out of collapsed scrums, let the game go on.
Will this happen? In a totally random way: yes, now and then. So why not let it happen all the time?
7. SKY TV gives us alternative commentary choices - I've long tired of our biased lot (with a couple of exceptions).
8. There's a giant, mother of an upset in the first week to set the pulse racing.
Argentina beating England has a promising ring to it, says a colleague. Tonga versus New Zealand, maybe? Probably not, although a wonderful hell would break loose if it did occur.
9. Japan doesn't get obliterated by the All Blacks.
They are a good lot, the Japanese, and 145-17 scorelines won't do anything for their game. Ditto Namibia, who are in a tough group. If Namibia - playing their fourth World Cup - take another series of hidings, it's high time the IRB reviewed the system which allows that country's free ride into the tournament. There are minnows and then there are minnows. Namibia haven't made the grade. The second African side needs to reveal that their World Cup experiences are helping them progress.
10. Sonny Bill Williams shows his stuff.
The man is not all hype. The naysayers are allowing themselves to be blinded by irrelevant factors. SBW has the offloading weapons to open up the game - rugby needs him as a playing role model.
11. Music-free matches, like the good old days.
Let the crowds provide the atmosphere.
12. On-field interview-free matches.
Enough of the halftime and fulltime drivel.
Call it as you see it
A mate's 6-year-old, enthralled by the World Cup, was watching the ITM Cup final between Canterbury and Waikato, who were signified by "CAN" and "WAI" on the television's scorebox. Bursting with enthusiasm, young Karam reckoned: "Great, the World Cup is on, Dad, it's Canada versus Waiheke Island."