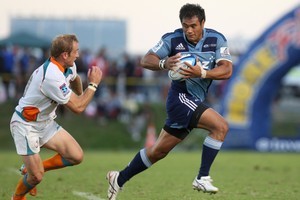 Soothsayers please apply. What's the next number in this sequence - ninth, seventh and fourth?
For those of you who have watched the Blues for the bulk of this year's Super 15, is fourth a satisfactory finish?
"Dunno" and "probably" are the likely answers to the twin inquiries. The Blues lacked the clout, class and clues to go much deeper in the competition, especially when they were shorn of players like Isaia Toeava.
His absence more than anything stalled progress. Once his hip injury flared up again, the Blues lurched to five losses and three wins.
Senior loose forward Daniel Braid and loose-head prop Tony Woodcock were casualties by mid-comp and when senior lock Anthony Boric limped out of the playoffs, the Blues' veneer of talent was stretched too far.
Six players, Jared Payne, Joe Rokocoko, Stephen Brett, Alby Mathewson, John Afoa and Keven Mealamu were in every match, while Rene Ranger, Benson Stanley, Luke McAlister, Peter Saili, Jerome Kaino and Luke Braid played in most.
When the Blues made their semifinal exit against the Reds last week at Suncorp, they looked weary. Their lacklustre tread suggested they were mentally fatigued, their walk could not measure up to their talk.
The Blues ended with 11 victories, a draw and six losses to end coach Pat Lam's three-year tenure with a record of 23 wins, a draw and 20 defeats. Make of that what you will. There is no doubt Lam's contract will be extended but when the entire Blues franchise is compared with the Crusaders, it is still some way adrift.
Lam had predicted the Blues would play some of the pedigree rugby they did the last time they won the title in 2003 and would give the title a good shake. They delivered in patches, they showed more tenacity to win tight games but they tailed away and were fortunate the Michael Mouse draw meant they avoided the Bulls and the Brumbies.
Toeava and Payne were the pick of the backs, Kaino, Afoa and Mealamu the best in the pack, comeback lock Ali Williams collected all his pieces in the second half of the comp while breakaway Luke Braid was the real comer.
Replacements will have to be found for the disappearing Payne, Rokocoko, McAlister, Brett, Afoa and probably the ill Kurtis Haiu. Others whose reinvestment will be questioned are Sherwin Stowers, Winston Stanley, Toby Morland, Mat Luamanu, Bradley Mika, Liaki Moli, Filo Paulo and Ash Dixon - men who were injured or rarely used.
The axis of the side was better this season but the No 8, 9 and 10 roles are still a jigsaw puzzle without clean-fitting pieces. At times, there was clarity, at others it looked ragged and this nerve-centre should be exercising the franchise's scouting and player intelligence units.
The incoming Ma'a Nonu and Rudi Wulf are a great start in replacing some backline vacancies, while young five eighths Gareth Anscombe should be selected after several years of grounding in first-class rugby.
He has made considerable contributions in the global under 20's tournament and last year for Auckland in the provincial championship but his challenge will be about playing confrontational rugby in the Super 15.
Lam says more signings are needed. Whether those occur by design or default or neither will be decided by October.