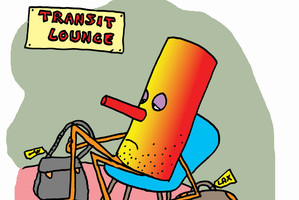 Any traveller who has experienced a glacier-slow wait in an international transit lounge might have some sympathy for American defector Edward Snowden.
I'm unclear on the comfort level of the facilities at Sheremetyevo International Airport, but viewing photographs, the interiors resemble every other soulless airport around the planet, suggesting this is not a pleasant place to be holed up for an indefinite period.
The quaintly medieval term "limbo" has been much used by the media to describe the situation the whistle-blower faces as a stateless citizen, now the US has withdrawn his passport accreditation.
I vaguely recall from childhood that "limbo" is some ethereal empty space where your sins are examined and evaluated - a bit like going through airport customs and waiting to see if you follow the green exit line, or if you're required to undergo a search because the doggie has detected a forgotten banana in your luggage.
Russian President Vladimir Putin offered Snowden the opportunity to escape the transit void by offering him asylum in Russia, but only on a somewhat ironic condition, "that he agrees to cease making harmful disclosures about the US from Russian territory".
This forced the hapless whistle-blower to choose between "limbo" or face further medieval anguish known as "purgatory" - depending which side of the fence you believe Snowden's actions deserve to be placed.
Purgatory is essentially a cleansing process involving painful temporal punishment and it will be difficult for the whistle-blower to accept asylum in Russia, in exchange for not releasing the secrets he presumably still has locked up in his hard drives.
It would surely be ever-lasting purgatory for him to be forbidden from trickle-feeding the perfidious activity of American cyber-intelligence operations around the world, particularly after making the decision to leave the US loaded to the gunnels with information that appears to seriously compromise America's diplomatic relationships with its allies.
So, how noble or nutty are his actions? Being forced to contemplate living in icy Russia after residing in Hawaii seems a very good reason for keeping your asylum options open.
No doubt Snowden doesn't want to end up like Guy Burgess, the British diplomat who defected to Moscow in 1951. Diplomatically silenced, he found life in Russia insufferably boring, became an alcoholic and died in his early 50s.