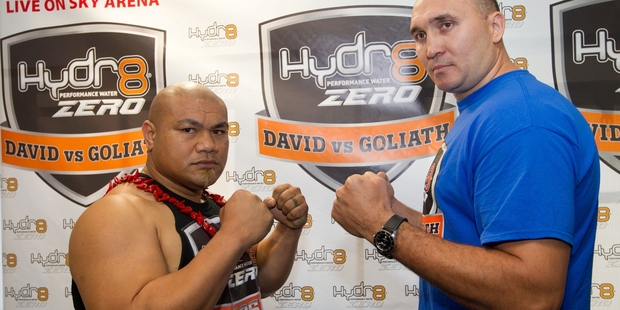 David Tua chatted yesterday with the Bay of Plenty Times about life on the comeback trail ahead of his fight with Alexander Ustinov on Saturday, November 23 at Claudelands Arena, Hamilton.
In a wide-ranging interview, the terminator turned toiler chatted about fitness, fighting giants, boxing politics and young heavyweight hopeful Joseph Parker.
On rueing his camp's decision not to postpone his world title fight against Lennox Lewis due to injury and a disrupted preparation:
"Yeah, I had problems with my ribs. It was serious stuff, I didn't train for a week. Unfortunately there were other commitments that people in our camp had already committed to so therefore it was tough because I trusted that those on our team would have made the right decision by me.
"Obviously they didn't. I don't cry about it; it is what it is but yes, certainly, that is what happened.
"I had to do what I had to do, so I said I would take it on the chin.
"The fact is there were things that I thought and trusted would be done that weren't, but I find myself in the situation where I'm not going to point the finger and do my best to move on."
On only getting one shot at the title despite sparring with the likes of Evander Holyfield and knocking out a host of fighters who won world titles:
"It was very disappointing, not only from a fighter's point of view - I think about it for the fans as well.
"You want to fight the best and when you don't it is very disappointing, so when I didn't get to fight some of the guys who, at the time, I thought would make fantastic fights for me and for them ... it didn't happen. I had to look at different options and do what I had to do.
"It's a great experience and a really humbling ... when you spar someone like Evander or when you don't do too badly against Moorer ... and then those guys end up having world titles.
On the politics of boxing:
"When you become a fighter, you know, you fight everybody - that's the thing. The disappointing thing for me is that the politics have ruled out really good fights. That's how I look at my career - at that time when I could have fought all those big names ... it never happened.
"You make the most of whatever situation you are in and you move on.
On his next opponent, the 2.02m Alexander Ustinov:
"He's a great fighter, he's obviously a former two-time world kickboxing champion. He's tall, he's strong, he's awkward and he's world ranked and he's coming down here believing he is going to win and give me a good fight. I appreciate him for giving me the opportunity to display my talent, respectfully.
On his injured calf:
"It's holding up pretty well. I'm in good nick and firing on all cylinders. Not bad for an old fella.
On why he doesn't see a fight with Joseph Parker on the horizon:
"He's doing well, I don't think I should be fighting him. Not because I think I am better but, you know, there's nothing to prove.
"He's got a beautiful exciting young career and he's on his way and for me fighting one of your own brothers is a good fight but a curse as well.
"That cut could be a major factor and a big problem with him in the long run in the heavyweight division.
"He has a good style, the talent and the gifts, to go as far as he wants.
"For me I wish him all the best. It's great to see. He has so many more opportunities than me when I came through."
On always fighting opponents much taller than himself:
"Everything became an issue when I fought Lewis and some of the other guys, but respectfully, without making excuses, the bigger the fighter the bigger the problems.
"For me, as a fighter, you trust yourself no matter what. There are things you have to take on the chin and do what you can and do the best you can with it, then you fight, knowing full well there are things hindering you and going through your mind.
"I live and learn and think the things I have learned in some of those challenges have moulded me into a decent person."