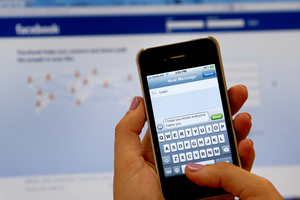 It's logical for schools to take an educational approach to programmes that combat cyber bullying.
These programmes work for students who are receptive to the message and they may dissuade a few bullies from continuing to torment their cohorts.
However, the message will be lost on those students who see nothing wrong with their actions.
Given the advent of cyber bullying, which allows tormenters to invade the sanctuary of their victims' homes via social media, a stronger approach is needed.
That's why I am impressed with the approach taken by one of the Western Bay's largest high schools.
Otumoetai College principal Dave Randell says he has found an effective way to help eradicate cyber bullying among his students.
The school asks all students and their parents to sign an agreement that outlines that hacking other students' online accounts, or using electronic equipment to bully others, is unacceptable.
By signing the form, students also agree to report any cyberbullying to staff.
Mr Randell said the confiscation of a smartphone, or being banned from using school computers for a week - or the remainder of the term - was a strong deterrent for students considering bullying. The forms were kept on file and renewed each year.
The strength of the approach is that it involves parents.
By signing the agreement, pupils know that breaching the rules will more than likely get a stern word at home.
The most determined bully may not care how their school views their behaviour but there is a fair chance he or she will be concerned about their parents' reaction.