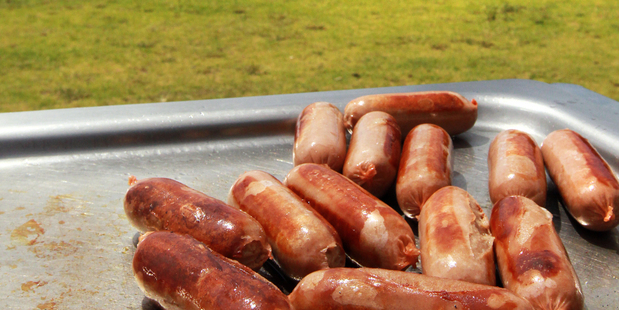 The Kiwi 'barbie' took a while to swallow. At my first, the host remarked - "You look nice. Going somewhere after?" I have since learned it is not a dress-up affair. Guests bring their own food. There is the male/female divide which Phil Smith, a poster on the Facebook page You Know You Are From the Mount ... sums up with a man cooking "while the shelias (sic) sit and chinwag".
While I enjoy barbecued food, something I will never stomach is some Kiwis' 'Tall Poppy Syndrome'. The negative approach towards people who do well, or do anything out of the norm-a reverse snobbery that cuts people down to the same "she'll be right" mentality, that if you're not wearing your stubbies and jandals and eating a snarler with just a few dollars in your pocket you're not real.
'Tall Poppy Syndrome' is alive in public venom towards Pilot Bay residents who are concerned about the placement of a public barbecue in the area.
The response of some was to organise a protest barbecue.
To "rally the troops".
The Facebook mob made it an issue about the value of the people's properties. On the You Know Youre From The Mount Facebook page, some want photos of the residents, calling them 'small minded', joking that will have "gone inside, closed all the windows, opened a bottle of Bollie and called the police".
The value of the Pilot Bay homes is immaterial. These residents have every right to air concerns on council decisions which affect their enjoyment of their properties. Can people honestly say that they wouldn't mind a public barbecue right in front of their house? The smell is not a ridiculous concern. There is a difference in the smell of a neighbourhood barbie to a public grill constantly in use.
Pilot Bay has potential to be a jewel in Bay tourism. Is the sight of large groups sprawling in fold-out chairs, drinking and hogging the boardwalk how we want the Bay to be represented? Add to this flies and rubbish that accumulate, rubbish which ironically is sometimes left to the residents to collect the next day.
As a compromise the barbecue can be put further away so the public can use it without it adversely impacting residents.
Living opposite a public barbecue would be bad enough. Yet the smell of sausages pale into insignificance compared to the bad stink of mob mentality - fried up by what seems to be just plain old jealousy.