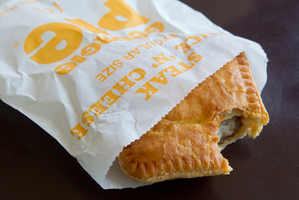 Georgie Pie is back - with McDonald's relaunching the brand nationwide last week. The colonel is donning his swim cap for the surf lifesaving season which started this weekend - KFC is a charity partner of Surf Life Saving New Zealand.
With almost a third of New Zealanders aged 15 and over obese, as Ellen Irvine reports today on page 5, Georgie Pie and a chicken bucket on the beach are the last thing our nation of fatties needs.
Finger-licking chicken helped fast food worker's Louise Watson's weight in our story soar to 93kg.
Earlier this year we reported that Kiwis reached the $1.5 billion mark in takeaway consumption. This has risen by 25 per cent in the last four years.
While the government protects health through regulation of synthetic cannabis, smoking and alcohol consumption, there are currently no plans to regulate the fast food industry, nor to tax or regulate fats and sugar. While smokers and drinkers pay for their vices, it does not seem fair that overweight people do not contribute extra to their health costs in the form of fatter taxes.
The government's investment into promoting healthy living does not seem to be working. Our mouths are bigger than our ears. The adult obesity rate has increased substantially in the last 15 years from 19 per cent in 1997 to 28 per cent now. New Zealand adults are on average the second heaviest among 50 countries, prompting warnings of a looming medical crisis.
A few dollars more for a burger could be a deterrent for some, especially if it was coupled with the removal of GST on healthier food such as fruit and vegetables.
Maintaining a healthy weight is challenging, especially with our increasingly busy and sedentary lifestyles. But there is a huge element of personal responsibility in choosing what goes into your mouth.
Where inroads into the obesity problem can be made is by influencing young people with measures such as regulating the sale of unhealthy food in school, education about nutrition, food buying and compulsory cooking classes.
Setting healthy patterns at a young age is essential. Everyone from government, to the food industry to the health and education sectors, and most of all parents, should make this a priority.