In the final instalment of a six-part series, the Bay of Plenty Times has asked key figures in real estate, property development and local and central government for their opinion on homelessness in Tauranga.
Paula Bennett
Social Housing Minister Paula Bennett says she is concerned about an increase of homeless people in Tauranga.
"We have committed around 240 emergency accommodation places per year to the Bay of Plenty. This funding will be allocated within the next few weeks and is part of the $41.6million new money for emergency housing in the Budget.
"Housing officials are part of the council's steering group and I have asked them to report to me directly on initiatives that we could implement quickly to support vulnerable people into homes.
"Numbers on the social housing register haven't increased dramatically, which would lead us to understand that the problem is due to a decrease in affordable rentals. I would encourage anyone in this situation to contact Work and Income to discuss their situation. There are often many ways that they can help that people don't know about."
Paul Adams
Paul Adams, the Bay's largest property developer, says a supply and demand problem has contributed to a lack of affordable housing in the region.
"Part of the reason for the shortage of housing in Tauranga is the council's lack of foresight in zoning sufficient land to meet the demand for housing. There are plenty of examples of land that should've been re-zoned residential to allow development."
Mayor Stuart Crosby
Tauranga Mayor Stuart Crosby says freeing up land might make a small difference to the rental pool, but would do nothing to address rent prices, which were rising hand-in-hand with property prices.
The reason was the base cost of a farm or an orchard to be converted into a subdivision was high and the developer had no obligation to create more sections once the land was freed up. The developers also sought to have higher priced land and homes to gain a higher profit, he said.
"The solution, in my view, is to provide more social housing or provide developments that will allow more modest homes for buyers or to rent. Unless there are very clear and positive actions in the social housing area, [the situation] will deteriorate.
"Successive governments have failed in the social housing sector so it is my view that the government should hand over the housing and land stock to not-for-profit trusts to run more effectively ."
He said the council would be open to supporting initiatives by the Government or third parties, not in the supply of money or land, but in making processes simpler to create more social housing, more quickly.
"It should be a concern to everybody. While our economy is strong and by and large the community is going well, we should not forget those who are still struggling, be it either in their own home and on low wages, or still seeking to find a home."
MP Simon Bridges
Tauranga MP Simon Bridges said the recent increase in homelessness was apparent, although it was not always showing up in official statistics.
"I think homelessness has crept up on a lot of us because it's not part of the character of Tauranga, at least not in the numbers we're seeing. Of course some of this is not entirely new. There's been homelessness in various degrees in the entire time I've been an MP in Tauranga but it's clearly grown recently."
Mr Bridges said part of the cause was rising house prices, rental prices and accommodation costs.
"I think the Government's motivated to provide more housing and to do all we can. The incredibly frustrating thing is it's difficult to solve quickly," he said. "We need more housing, fullstop. Whilst it is happening, it takes a long time. The Government's already made an announcement for emergency housing provision for Tauranga. We're pressing to see if we can bring that on quicker." Mr Bridges said he had been in touch with most of the relevant community organisations this week and most had indicated they wanted more wrap around support from Government agencies.
"It's incumbent upon the Government to step up."
Phil Twyford
Labour Party housing spokesman Phil Twyford said Tauranga residents were being forced to live in camping grounds and garages as a result of Auckland's housing crisis spilling over into the regions.
"People are falling between the cracks. The answer is for the Government to build more state houses, instead of selling them off. There also needs to be more supported emergency housing, with houses earmarked for this purpose and backed up with wrap around services delivered by non-government organisations.
"At the same time the Government should be tackling the root causes of the housing crisis by launching a massive government-backed programme to build affordable homes for first home buyers, cracking down on property speculators, and genuinely reforming the planning rules to encourage more affordable housing."
MP Clayton Mitchell
Tauranga-based New Zealand First list MP Clayton Mitchell said the issue needed attention locally and nationally.
He was working with a group of locals to provide a "band-aid" for the problem rather than focusing on the causes. The group was focusing on what practical steps could steps could be taken to help those in need. Nationally, the Government needed to look at what was driving the problem.
"The big driver is immigration. It's the highest migration level this country's ever experienced. It's 68,000 people net gain. We've got a supply and demand issue. There's just not enough housing," he said.
"The long-term solution is to control our immigration and get back to a manageable level."
Mr Mitchell said he had been heartened this week by just how many people in the community wanted to help.
Steve Morris
Tauranga City councillor Steve Morris said the issue of homelessness and housing in the city had crept up on the Government, the council and community. The community, as well as the council, had a responsibility to do something, he said.
The council could commission a report into the need for and feasibility of a women's shelter, as it did before setting up the men's shelter. It could also look at changing the city plan to require developers to provide affordable housing in new subdivisions. "We have not built affordable housing as a community for 20 years. That's not just the Government, that's not just the council, that's everybody," he said.
Jan Tinetti
Merivale School principal Jan Tinetti said solutions were needed in the short, medium and long term.
"The individuals are your short-term solution.
"We have had people come to us to say we can help with the lining of garages to make them a bit more comfortable," she said.
In the medium and long term changes needed to be made by the council and Government, she said. The council needed to make changes to make it easier for people to open up their land for temporary portable housing to get people out of cars and garages.
The increased awareness this week had also opened the way for meaningful discussions, Ms Tinetti said.
"One of the really good things that has come out of this is that people are talking to each other. I've had some really good discussions with council, we had a discussion with Simon Bridges, had a phone call from Housing New Zealand.
"This has highlighted that this is an issue and we need to keep it at the forefront of people's minds."
Tommy Wilson
Te Tuinga Whanau Support Services director Tommy Wilson said it was time to move into solution mode. "Now that we have identified and understand better this challenge, and heard the war stories of homelessness, we can now move into solution mode.
"There is a huge appetite to help the homeless and a coordinated approach to handle this help is what is needed most.
"This, in my opinion, can be best driven by the group put together under the guidance of Steve Morris at Tauranga City Council."
Ross Stanway
Ross Stanway, chief executive of Eves and Bayleys Real Estate, said there was a growing problem with homelessness in the city. "I think the long-term solution will require a strong collaborative effort between central government, local government, relevant community groups and private enterprise."
He said overseas there were vast housing projects devoted to people who struggled to own their own home. "In New Zealand, we've never considered that at some stage we would need these large-scale developments, but maybe the time has come.
"Given the pressure on available land for required housing developments, the traditional solution of a state house on a quarter acre section may well have had its day. A different model is now required."
MP Todd Muller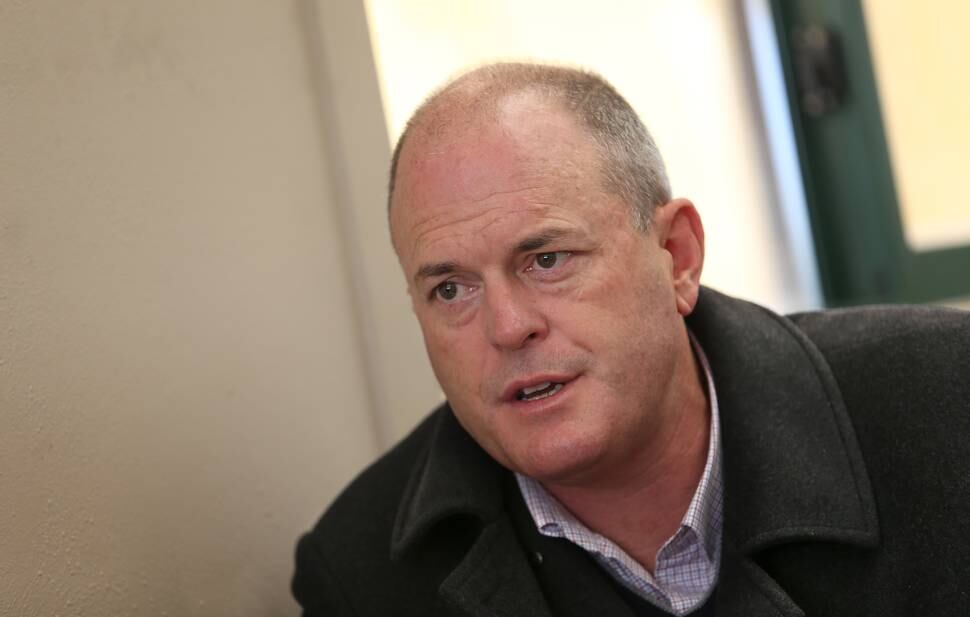 Bay of Plenty MP Todd Muller said the main message for people who found themselves in a homeless situation to go to Work and Income.
"Not because they will necessarily find a house the very next day, but it would ensure we get the very best picture of the scale of need here in Tauranga.
"If they register at Work and Income and are assessed as high importance, that will show through on the numbers which will flow through to the Ministry of Social Development and to Paula Bennett."
He said the reality on the streets of Tauranga needed to be reflected in Work and Income data, to bring Government visibility to the problem.
As for solutions, Mr Muller said he had high expectations for the sale of Housing NZ houses in Tauranga. He hoped the new provider could refresh the housing stock and turn it into more houses through better use of space.