The great divide, also known as the flag debate, is continuing to split New Zealanders.
The Bay of Plenty Times Weekend talked to Tauranga migrants and visitors from other countries to see what their views on the flag debate were, and which flag they preferred.
Kris Stamatakos, originally from Canada, has been flying the Silver Fern flag alongside the Canadian flag outside his motel, the Colonial Court Motor Inn.
You need your own identity, why be under the Union Jack?

SHARE THIS QUOTE:
"Replacing the Union Jack with the Silver Fern, that's New Zealand," Mr Stamatakos said.
He was born two years after Canada changed their national flag from the Canadian Red Ensign, which had the Union Jack in the corner, to the current Maple Leaf flag. "You need your own identity, why be under the Union Jack?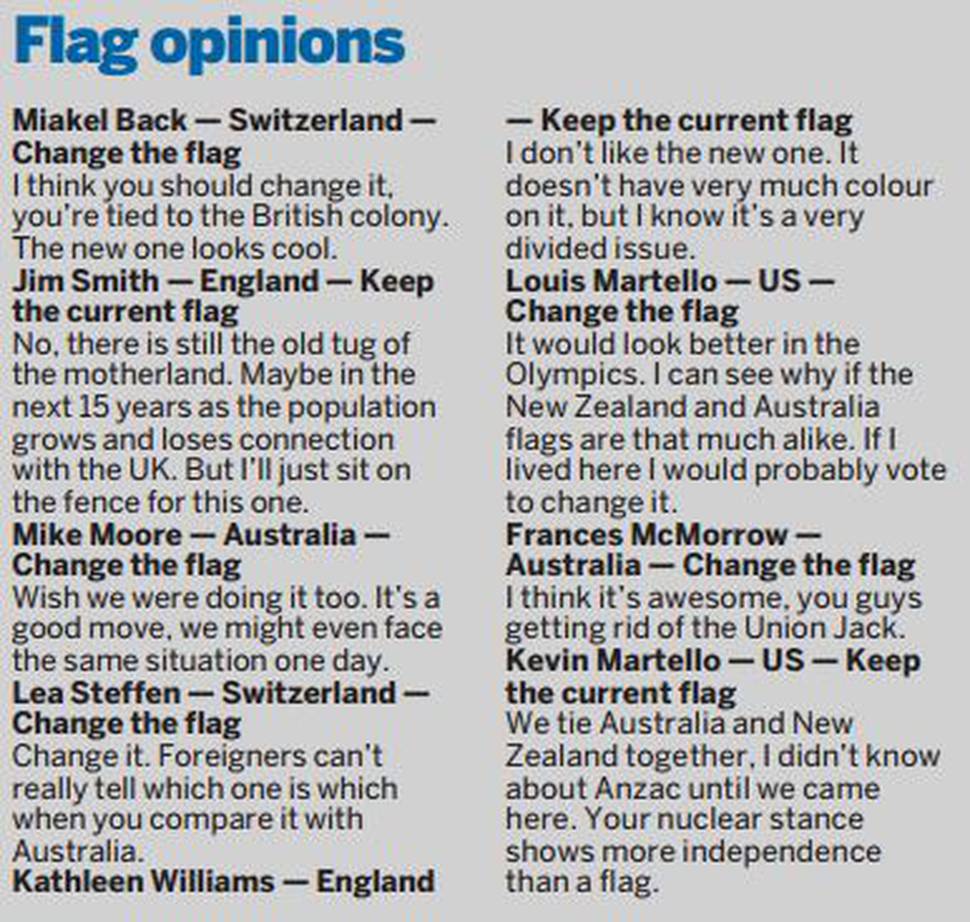 "My dad came over here and he said if he had the ability to vote for the new flag he would," Mr Stamatakos said.
Read more: Bay schoolchildren weigh in on flag debate
Mr Stamatakos said, like Canada, New Zealand went to war to "fight for freedom of speech" and unlike many other countries, New Zealand had a choice in what its flag should be.
His sons Luke Stamatakos, 12, and Aidan Stamatakos, 14, said they preferred the Silver Fern flag.
"It's cool, it separates us from Australia. The fern is even on our sports teams, it represents us.
"Why have we used all this money to change if we're not going to change it? We need to be noticed, everyone thinks we're part of Australia," Luke said.
Aidan said some of his friends were divided in what they wanted.
Alex Marinello and Caitlin Moniz, both originally from Virginia in the United States, said they liked the Silver Fern flag.
"I like it more, it's more unique. The other looks like England," Ms Marinello said.
"I also like the new one, it stands out and is distanced from the Australian flag," Ms Moniz said.
Richard Fenn, who helps new migrants in Tauranga find jobs, said he found there was a tendency for migrants to want to change the flag, due to possibly not knowing the history of the current flag.
Read more: Alternative flag taken from Tauranga flagpole
Council's legal advice: Fern flag must go
"For migrants, it doesn't mean the same thing. Changing is a good idea, but you have to take the history into account."
Margareth Ruffell, who has lived in New Zealand for more than 20 years and comes from Brazil, said she thought people new to New Zealand may not know what was behind the current flag.
"The new one is quite attractive but it doesn't say everything it needs to. New migrants don't know the history behind it," she said.