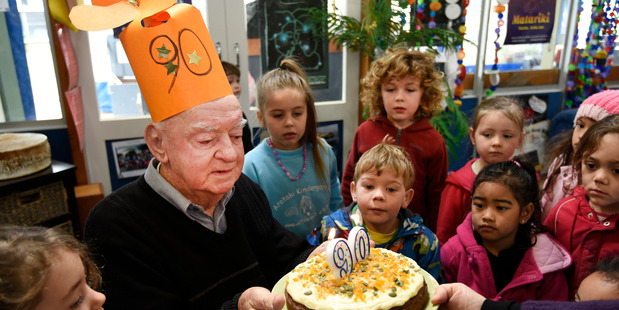 Children at Arataki Kindergarten made an exception to the usual birthday chair rules on Monday.
At most kindergartens, the bottom on the birthday chair must belong to someone who is turning five - and about to leave for "big school".
Monday's birthday boy was a little older - but no less popular - than those who have gone before.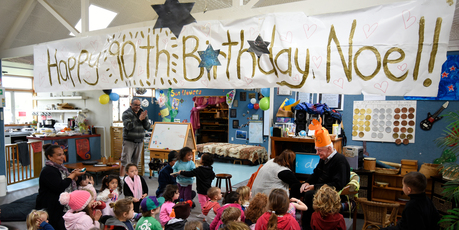 Noel Kelly was given a rousing rendition of Happy Birthday and morning tea to celebrate his 90th birthday.
"The children just love him," says head teacher Tanya Shorter.
There is a reason for that - as Noel is often seen pottering around the kindergarten taking things away to be fixed, bringing them back or putting up shelves or pictures.
"He mows the lawns and fixes all the equipment - almost on a daily basis there's something to be fixed," says Tanya.
Noel lives next door to the kindergarten. He began mowing the lawns at the kindergarten in 1982 and soon began putting his skills to wider use.
"I've been coming here ever since - I enjoy doing things for people and it's been one of those things that just happened."
He says it's not often that kindergarten staff bring him a project he can't complete.
Noel has also made tables for the children and chats to them while he works in his own garden.
"The kids all know me. There's just a fence between us."
Leaving teachers have tried to entice Noel away with them, but he is a one-kindy man.
"He is an amazing guy," says Tanya. "And it's lovely to have an older gentleman around the children. I can't speak highly enough of him."
He also talks to the children about special occasions such as Anzac Day and contributes fruit and vegetables from his own garden.
Three of Noel's four children and all his grandchildren live in Australia and he regularly travels across the Tasman - even though it usually means a lot of repairs to catch up on when he gets back.
"He is always saying he is retiring, but I just ignore him," says Tanya.
Noel has seen the kindergarten grow from the day it first opened in 1976 to the hive of activity it is now.