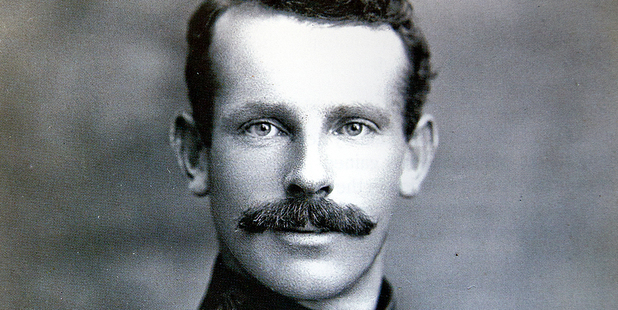 Tauranga soldier Reg Watkins volunteered to be stretcher bearer on the Western Front during World War I and never came home.
Private Watkins was a Salvation Army captain when he entered Trentham Camp on October 18, 1915. He wrote from the trenches on July 12, 1916: "I hope I may soon be privileged to return to New Zealand to continue the work that I relinquished."
But he died on July 23 after being hit by a shrapnel shell while attending a wounded soldier. He was 30.
Private Watkins was one of 107 servicemen who lived in Tauranga, or enlisted there, to die during the so-called "Great War".
His story and those of other men feature in an interactive mobile exhibition called From Tauranga to the Trenches, which opens today in Masonic Park to commemorate the centenary of World War I and local fallen.
Two shipping containers have been transformed into an innovative backdrop for the exhibition, featuring artefacts and the soldiers' stories from the Tauranga Heritage Collection, the Hauraki Regimental Museum and other private collections.
Cultural heritage manager Dean Flavell said he believed the exhibition would provide a greater understanding of the war's impacts and wartime contributions made by people in this region.
"By telling Reg's story, it is hoped that the lives of all those local men whose served can be honoured," he said.
Tauranga City Council cultural heritage co-ordinator Fiona Kean said the exhibition about Private Watkins and the other men's sacrifices showed the toll taken on the community. Ms Kean said Private Watkins led an ordinary yet "remarkable life" and was held in high esteem by the Maori he lived among.
When he reached the Western Front, he volunteered to be stretcher bearer, one of the most dangerous jobs in the war.
The exhibition runs until September 12, then will be relocated to various locations around Tauranga, including schools, marae, rest homes and RSAs.
In addition, Ms Kean has complied a book also called From Tauranga to the Trenches, which looks at the effect World War I had on those serving in the war and their loved ones at homes.
The book has been published by Tauranga City Council and can be bought at Books A Plenty for $25, with all proceeds going towards future community exhibitions.
The exhibition is being run in partnership with the WW100 Tauranga group, the Hauraki Regimental Association, Tauranga City Council Heritage Collection, and was also made possible because of a NZ Lotteries Board grant.
The exhibition is open from 10am to 4pm, Monday to Friday, and 10am to 2pm Saturdays.