Reporter Sandra Conchie spends time this week helping collect donations during the Assistance Dogs New Zealand Trust appeal, as part of the weekly series the Bay of Plenty Times Gives Back.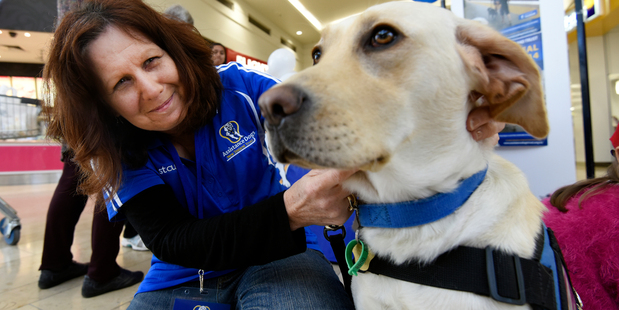 For the cost of a coffee, the life of a child or adult with disabilities can be changed dramatically.
It costs only $5 a week to sponsor a puppy and that small donation to Assistance Dogs New Zealand Trust will help fund the dog's training and ultimately improve the family's quality of life.
It is life-changing stuff, which was brought home to me as I helped a bunch of passionate volunteers collect donations during the charitable trust's fundraising appeal at Bayfair this week.
My "Gives Back" day starts fairly slowly as another volunteer, Gwen Osborne, and I hold our buckets patiently waiting for shoppers to come and make donations.
But as soon as Wendy Isaacs, the trust's Tauranga-based funding development manager, turns up with 8-month-old Logan and 15-month old Echo, the crowds swarm and donations soon pick up.
Oohs and aahs, and "oh, they're so cute" become the norm.
But the dogs' cuteness and willingness to please aside, it's not the key purpose for their existence.
Logan is an assistance dog "in training" and once fully trained he will be paired up with a client for life, more likely than not with a child.
Ninety per cent of the trust's assistance dogs recipients are children, struggling with a raft of medical conditions such as autism, diabetes, epilepsy, cerebral palsy and Down syndrome.
"We specialise in helping people with multiple disabilities," Mrs Isaacs says.
Echo is a member of the trust's breeding stock programme and she is destined to start creating the next generation of assistance dogs, I'm told.
Mrs Isaacs says assistance dogs are "not" guide dogs but they are trained to perform a variety of tasks to assist their owners to achieve more independence, and enhance their socialisation.
The dog can also be taught to track and retrieve objects.
In the case of an autistic child, the dogs are tethered to their owners around the waist and, if the child tries to run away, the dog will sit down and brace itself.
They will also give the child a nudge if they are making rapid, repetitive movements.
The dogs go everywhere, including to school, and help to keep the child calmer in the classroom and during social outings, making it a more enjoyable experience for the family. If the child is diabetic, their dog will be trained to sense when they need insulin by smelling their breath, and alert their parents by pressing a specially designed bell.
Mrs Isaacs says the dogs can also be taught to do tricks, including high fives, playing dead or bowing, which helps an autistic child to relate to others and break down the social barriers.
I'm shocked the trust receives no government funding, and I'm not alone.
One man tells me he has no ready cash and leaves but returns a short time later having visited an ATM and pops $20 in one of the buckets.
A teenage boy who has just visited McDonald's with his school mates stops to give Logan a pat then tosses his last few coins into my bucket - it's heart-warming stuff.
One mother is almost brought to tears when she hears the struggle other families go through every day.
Tauranga man Kevin Edkins, 64, who turns up with his guide dog Olsen, 4, says he especially came down to make a donation.
Mr Edkins says he lost his sight in both eyes in 2009 after suffering a stroke and sank into major depression, because his wife who has osteoarthritis was not able to transport him around.
"It took me two years to come to terms with losing my sight. Olsen gave me my freedom back, he's changed my life. So I know first hand what a huge difference it would mean for someone to have an assistance dog in their life, and it would help them gain some independence."
While there is a distinct difference between the Foundation for the Blind and the Assistance Dogs New Zealand Trust's work, they share a common goal - promoting independent living, and the client having the best chance to develop and reach their full potential.
Volunteer Noelene Johnstone, 78, says until she was asked to help collect donations she did not know much about the trust's aims.
"But I think it's a damn good idea. It's fantastic really and every dollar counts," she says.
Mrs Isaacs spent the past 15 years breeding and training guide dogs for the NZ Foundation for the Blind and only began working for the trust in February.
She says she "jumped ship" because she saw a huge demand for this service and a massive funding gap for multiple disability sufferers.
The trust was founded in 2008 by Te Awamutu woman Julie Hancox, and relies on donations and bequests despite the amazingly positive changes these dogs help make to sufferers' lives.
The dogs cost about $60,000 to raise and train from birth, and families are asked to fundraise at least $20,000 towards the cost.
There are 20 working assistance dogs throughout New Zealand - none in Tauranga - and the trust has a waiting list of 50 people, with at least eight inquiries a week.
Just Cuts franchise group came on board this year with an initial $10,000 donation, and also has donation boxes in each of its stores, including at Bayfair and Bethlehem.
Bayfair-based Just Cuts salon owner Kim Heron said the franchise group's decision to support the trust's work was a no-brainer and she has other fundraising ideas in the pipeline.
"It's quite expensive to train these dogs, and every little bit of money helps to make a huge difference to a child and their family," she says.
So next time we order that extra cup of coffee, let's think what that money could do in helping lighten their load.