UPDATED 3.32pm:
The death of a woman who fell from a four-storey building in Tauranga's CBD today has been referred to the coroner.
Police Senior Sergeant Shannon Clifford said it was unknown why the 52-year-old woman was at the commercial building when she went to an outside balcony on the top floor.
The female fell from the balcony and landed on the pavement below.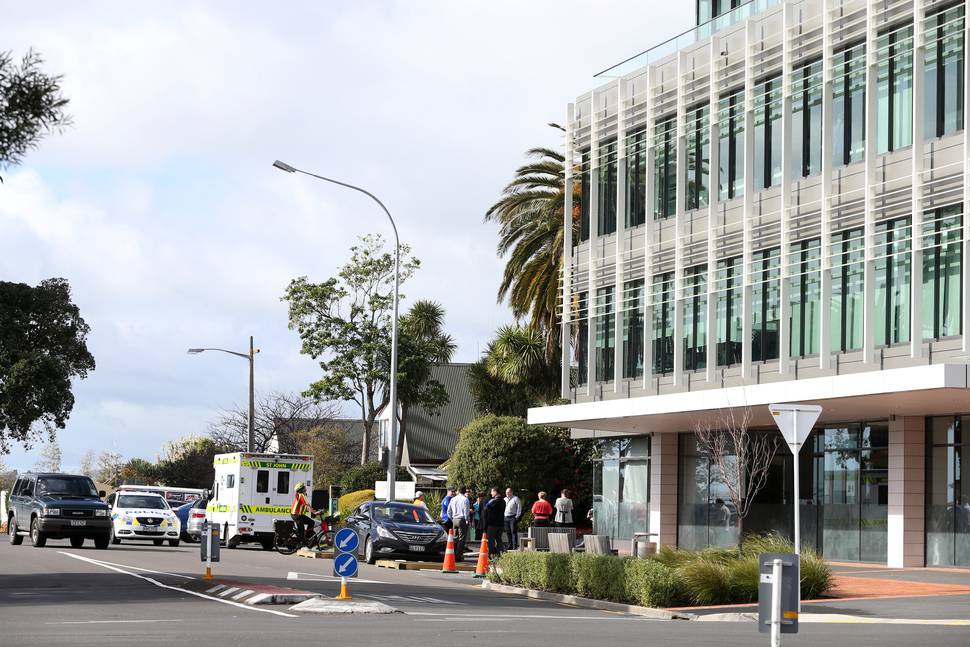 St John ambulance staff transported the woman to Tauranga Hospital with life-threatening injuries. A short time later as a result of those injuries sustained from the fall the woman died, Mr Clifford said.
Mr Clifford said there were no suspicious circumstances surrounding the death and the matter had now been forwarded to the coroner.
Mr Clifford asked if anyone who witnessed the incident or had any further information to contact Tauranga Police on 577 4389 or alternatively provide anonymous information via Crime Stoppers on 0800 555 111.
Police are still working to locate the woman's next of kin and the woman's name has not been released for now.

2.21pm: A Sharp Tudhope Lawyers spokesperson says they are shocked and deeply saddened by the incident that happened at their premises earlier today.
A 52-year-old woman died after falling from the fourth floor of the Tauranga CBD building.
"She was not immediately known to us, but our thoughts and sympathies are with her next of kin.
"We are also focused on supporting our staff, and are working alongside the police."

12.22pm: The 52-year-old woman who fell from a multi-storey building in Tauranga CBD has died, police said.
The woman was taken to hospital with life-threatening injuries but has died as a result of her injuries.
12.03pm: A 52-year-old woman is in hospital with life threatening injuries after she feel from a building on Devonport Rd.
Police and ambulance were called to the four-storey building on Devonport Rd in about 10:55am, Senior Sergeant Shannon Clifford.
Ambulance staff have transported the female to hospital with life threatening injuries.
Police are currently on scene and are investigating the circumstances.

11.05am: Emergency services are working to clear a crowd at an incident in central Tauranga this morning.
The incident has happened at a building between 1st Ave and 2nd Ave on Devonport Rd about 11am.
Witnesses at the scene said a woman had fallen off a building. She had been wearing grey trackpants and sneakers.
A reporter at the scene said St John ambulance staff had taken the woman to Tauranga Hospital. It is understood she is in a critical condition.
There may be delays to traffic in the area and people are advised to avoid the area.