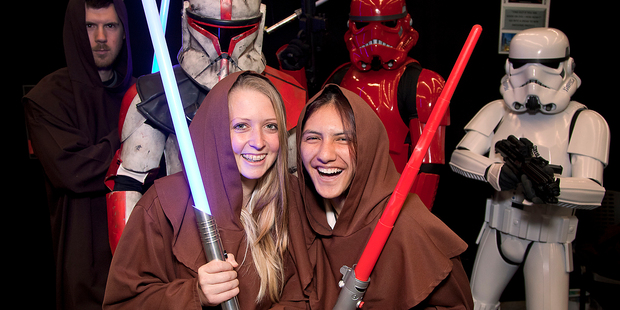 Thousands of high school students wandered between stalls collecting flyers at the exhibition at ASB Arena yesterday.
Year 11 Katikati College students Sam Lett and Acacia Davis, both 15, took the opportunity to have a laugh between talking to potential employers and tertiary institutes.
The pair donned jedi cloaks, picked up lightsabers and posed for photos with other Star Wars characters at the Avonmore Tertiary Institute stand.
"It's pretty fun," Acacia said.
She had already decided she wanted to study physiotherapy at Otago University when she finished school but said the expo was still helpful.
"They tell you what you're supposed to do to get into things and what classes you have to take," she said.
Sam did not yet have a career mapped out so was determined to make the most of the opportunities available at the exhibition.
"I have no idea what I want to do so it's good having people give you information," she said. "It's really good to find out all the information about everything."
She was particularly interested in finding out about the different courses offered by the universities.
Otumoetai College automotive engineering teacher Tim Cosson said all 400 Year 12 students had been bussed to the expo.
"There are heaps of people getting heaps of ideas," he said.
Priority One strategic projects manager Greg Simmonds said the first day of the exhibition had been a huge success.
"It's absolutely fantastic. It's another step up from last year. We've got a huge amount of more interaction. The providers have really focused on things for the kids to touch and feel and see and do," he said.
All 10 Western Bay high schools, some intermediates and Waihi College brought groups through the expo yesterday.