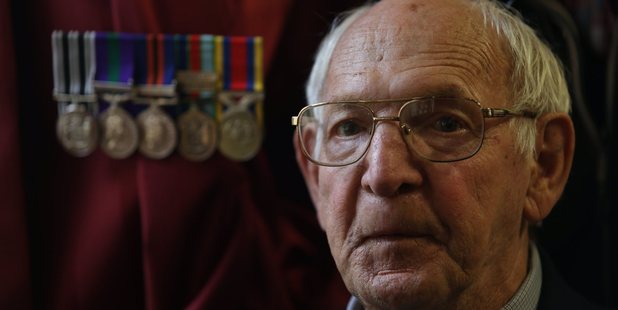 Veterans proudly wearing their medals stood at attention as a wreath was laid to mark the 100th anniversary of the start of World War I.
About 25 Tauranga men and women honoured the fallen at a ceremony at the Tauranga Domain gates yesterday.
For Tauranga RSA president Dick Frew, who laid the wreath with the help of WW100 Tauranga treasurer Paul Anderson, it was a chance to remember many family members who had bravely fought.
"I had four uncles in the WWI. One was killed, one was wounded, one was gassed and one didn't have a mark on him," Mr Frew said. "Mum's brother was killed, Dad's brother was injured and Mum's brother-in-law was gassed."
Mr Frew was lucky enough to be one of those selected from the ballot to go to the 100th anniversary of the Anzac landing in Gallipoli next year - where his uncle was shot and wounded.
The only confirmation Mr Few's mother had that her brother had signed up and been sent off to war came when they learned of his death.
"Mum's brother that was killed had a big argument with his father on the farm at Otorohonga and two years later they got a letter saying he had been killed."
The uncle who was gassed returned home but was often ill and "didn't lead a proper life".
Two other uncles were in WWII, one of his cousins was a member of the forces that occupied Japan after WWII, another cousin fought in Korea, Mr Frew served in Malaya between 1959 and 1961, and his younger brother fought in Vietnam.
Like most of the young men in his family who joined the armed forces, the sense of adventure attracted Mr Frew. "We were young, silly and bullet-proof."
The commemorations were a chance to remember those who fought and died in all the wars.
"What we've actually got to remember is we've left a hell of a lot of good guys behind," Mr Frew said. "There's thousands buried overseas and their mothers have never seen their graves. They were cut down in their prime."
Mr Anderson said remembering WWI was important.
"It's the birth of a nation. It was supposed to be the war that ends all wars," he said.
At yesterday's ceremony Alby Osborne, national vice-president of the Royal New Zealand Naval Association, reminded the crowd never to forget the sacrifices made, and HMNZS Ngapona's commanding officer, Lieutenant Commander Gerard McGrath, read the poem For the Fallen.
"It brings it home as an active serving member of the military," Mr McGrath said.