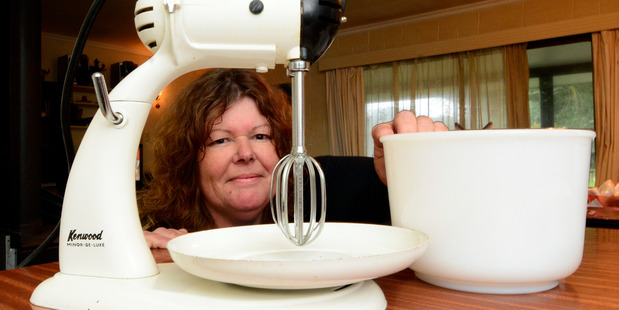 Passionate Pukehina baker Sharon Douglas' inherited treasured 1950s Kenwood cake mixer has beaten more than 300 entries to win Mr Rental's search for Australasia's "oldest appliance".
Ms Douglas, 49, said she had been passionate about baking since she was a child.
One of her earliest memories was watching her Gisborne-based mother Rose Robertson using the Kenwood Minor deluxe mixer to bake a cake when she was 5 years old, she said.
Ms Douglas said the mixer had originally been owned by her late grandmother Vera Mayo who passed the appliance onto her mother after seeing her struggling to whip the cake batter with a fork. She said she told her mother about 10 years ago that if she ever decided to get rid of it she wanted it and about six months ago it finally came into her possession.
"I have always really liked it and it's just so cool. The mixer may be over 60 years old but it still works beautifully, especially when I'm making my speciality, pavlova.
The pieces are impossible to find now. I can't ever see myself getting rid of it any time soon, it's such an amazing item.
It's also precious. "If the mixing bowl gets broken it cannot be replaced," she said.
Ms Douglas said she has two daughters and three grandchildren, and her oldest daughter Coralie was upset she did not inherit it instead - she hopes it will get passed down to one of the grandchildren.
She said she learned about the Mr Rental competition while cruising Facebook.
"I never expected to win of course," she said.
More than 300 entries were received from around New Zealand and Australia.
A chuffed Ms Douglas, who won $1000 worth of travel vouchers, now has a huge dilemma, deciding whether to fly to Brisbane to visit her partner's family or visit the South Island for the first time.
Mr Rental marketing and product manager Grant Peck said Mr Rental had been privileged to speak to the contestants and hear their stories about treasured family heirlooms, reliable household goods and pieces they couldn't bear to part with.
"More and more people are developing a taste for products in the style of years past, but for many of us such products still play a prominent role in our households," he said.
Some of the other entries included:
• Vintage gaming consoles
• 1950s computers
• Antique radios
• A range of other cooking appliances
• A number of old fridges
For more information about Mr Rental in NZ, visit www.mrrental.co.nz