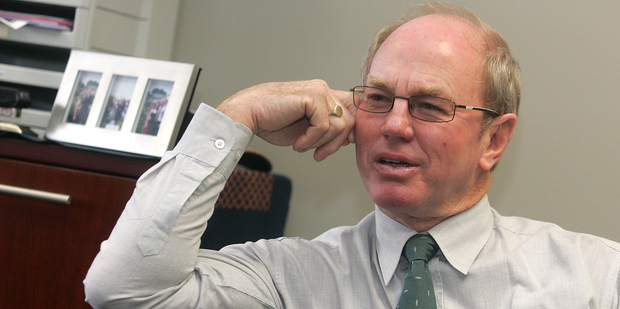 Five leaky classroom blocks at Otumoetai College will be torn down and rebuilt rather than patched up.
Mr Randell said $11 million was invested in the school for construction in the late 1990s and every one of the classrooms built or renovated then had since leaked.
Heavy rain resulted in whole passages being flooded and linoleum being lifted off the floor.
The Ministry of Education earlier told the school it could cost up to $25 million to repair or replace the affected buildings
Principal Dave Randell said in a meeting this week the Education Ministry confirmed the English, science, maths, social studies and H blocks would be replaced, not repaired.
He announced the decision to the school community in its college newsletter this week.
Part of the reason lay in the poor quality of the land the blocks were built on, Mr Randell said.
"We're in the too hard basket. One of the biggest things is our soft soil," he said.
Any repairs would also have to include extra piling to strengthen the buildings, which would become too expensive.
The soft soil meant it was likely the new blocks would be three storeys high rather than two in order to allow the footprint to be decreased, he said.
The Education Ministry had not yet indicated when this work would start, he said.
The problems with the school's buildings were first discovered more than five years ago.
Recladding and reroofing of the school's technology block was under way and the ministry had also signalled minor repairs would be needed on the pavilion, gymnasium, library and drama block.
The technology block cost $1.27 million to build in 1999 and was costing $1.4 million to fix, Mr Randell said.
The Ministry of Education head of education infrastructure services Kim Shannon was unable to confirm or deny plans to remove the buildings.
"Otumoetai College faces a number of property issues including weather-tightness failure, building upgrades, and ground stabilisation issues," she said.
"We are currently carrying out remediation work on the school's technology block, which includes recladding and reroofing, and this is expected to be completed early in 2015.
"In parallel with this, the ministry is also working closely with the school on possible options for addressing the remaining property issues. Planning work will include reviewing site conditions, building assessment reports and costs. Once this work has been completed we will be able to determine project costs and time frames."
Otumoetai College was only one of a number of Western Bay of Plenty schools with leaky buildings. In those schools 53 buildings needed repairs. As of November 30, $25 million had been spent on repairs and a further $19 million would be needed.