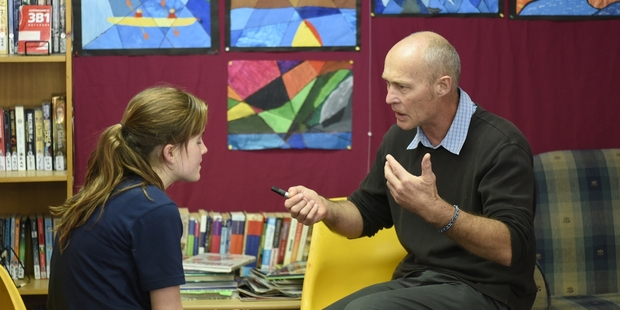 Treating students as adults is one of the keys to Paul Evans' teaching technique.
Mr Evans is the Year 7 and 8 teacher at Matahui Rd School and he believes young people should be treated as if they are adults, with authentic conversations between teacher and student.
He also believes in teaching to the moment. "It's about teaching things that are relevant to what's going on in the moment, being flexible and open minded. And it really goes without saying that you need to have a good grounding in the modern curriculum and know all the areas you need to teach."
His students all work on different projects at the same time. Some are writing speeches, some are painting clay shapes for a mural, a few are writing essays and others are working on science fair projects.
Mr Evans gets around to each student and catches up on what they are doing, gives a few tips, offers some explanations or points them in new directions for research, but does not actually tell them what to do.
The students are self directed and working away on their own tasks. Mr Evans addresses the students in an adult-like way and has serious conversations with them rather than being a teacher in the front of the classroom.
"I'm a fan of inquiry-based learning, the idea being that the students go and find out about the things that interest them. These things need to relate to real-life concepts.
"I also think it's very important to give the students as many hands-on opportunities as I can. They are physically involved rather than writing about it."
Mr Evans began teaching only two years ago. He has done many jobs in his time and also owned a lawn mowing and irrigation business. He thought this life experience would help him to become a good teacher.
"I came to teaching late in my life. I'm a male teacher, obviously, and I thought that a little bit of maturity and experience was something I could offer students.
"I get a great deal of enjoyment out of it, I think the school really suits the type of person that I am."
Mr Evans enjoys teaching the intermediate-aged students and preparing them for life at college. "It's nice to help them as they are approaching some of the more testing years. With some of the issues that come up as they become teenagers, they start to grow up and mature.
"There's a nice sense of achievement being able to work with this age group."
Mr Evans' top five teaching tips
1 Use inquiry-based learning.
2 Treat the students as adults - with authenticity.
3 Use real-life concepts.
4 Be hands on.
5 Incorporate outdoor learning.
Do you know an awesome teacher in the Bay? If so, we'd like to hear from you. This series celebrates the great teachers in our early childhood centres, schools and tertiary institutes. Let us know of your nominations by emailing news@bayofplentytimes.co.nz.