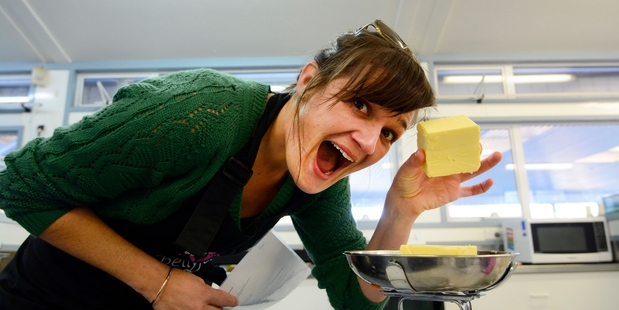 Growing up, my mum thought it was an absolutely crucial life skill to know how to make a roux.
Hours were spent over a hot steamy stove - first melting the butter, which the flour was added to, then slowly we would stir in the milk.
If lumps occurred, in any shape or form, the whole operation was started again.
This week my skills were put to the test when I had to make two whole litres of cheese sauce for the Tauranga branch of Bellyful.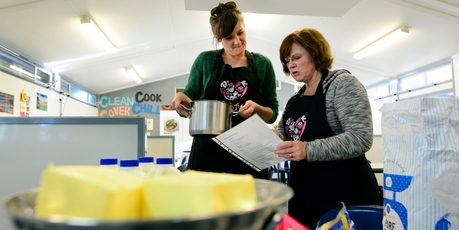 A national not-for-profit organisation, Bellyful helps families around New Zealand when they need it most - at dinner time.
They deliver pre-cooked meals to families with new-born babies, or families struggling with illness, and thanks to generous local support in each of the branches, the service is free.
On Wednesday afternoon I meet Tauranga Bellyful branch co-ordinator Alaina Parkinson at the supermarket to buy supplies for the afternoon's cook-a-thon.
As we cruised down the aisles picking up the different groceries Mrs Parkinson gave me the lowdown on what the organisation was about.
Bellyful was founded in 2009 and now has more than 20 branches across the country. By 2016, organisers hope to have a branch in every town. Each of the branches do all of their own fundraising, which raises money they need to buy ingredients for the meals they make; which are then donated to struggling mums and families.
It costs the organisation about $280 in ingredients to cook 70 meals with some local businesses helping out too. Cherrywood Butchery subsidises meat and Parklands Produce donates carrots and onions for the meals too.
We left the supermarket with five two-litre bottles of milk, four blocks of cheese, two slabs of butter, six packets of macaroni, six boxes of lasagne sheets and 20 bottles of pasta sauce, and this was only half of what a normal Bellyful cook-a-thon needed.
We packed the car and reassembled at the Tauranga Boys' College cooking rooms where we unpacked the groceries and set up the different work stations while other volunteers would come and help make the different meals - macaroni and cheese, spaghetti bolognese and lasagne.
Meals all designed to be simple and pre-schooler friendly.
The organisation also caters for gluten and dairy intolerance by making a vegetable and lentil soup.
As we started grating the two kilograms of cheese for our cheesy sauces Mrs Parkinson says she first learnt about Bellyful after the birth of her first child.
"She was a pretty good baby, but I needed something else to fill my time. I thought that it was a really cool idea and organisation so I researched and found out there wasn't one in Tauranga."
The new mum went into action and contacted Bellyful's founder, Jacqui Ritchie, who put her in contact with Angela Heyward, another Tauranga-based mum, and got the organisation running for the area.
Cooking in Tauranga began in January 2013 and since then they have delivered more than 700 meals to more than 145 local families from Katikati down to Te Puke, she said.
"It's pretty cool. You hear stories of people who get help but you also hear the sad stories of families who are really struggling. Women with post-natal depression and doing it on their own with a new-born baby. When I had my baby, my mum, even though she lived in Hamilton, was able to come over and help out. It's just really sad some women don't have that kind of support. When you have been dealing with a grotty baby all day long, you're really hungry and you've hardly got the time to sit down, so this is perfect."
Tauranga Bellyful has 23 volunteers including Mrs Parkinson and as we finish grating the cheese two of the others come in to do their part.
Armed with bags of carrots and onions we all get to work to peel and grate these as well.
As the laughter and tears, from peeling and grating onions, started to flow I was given a workstation where I started to cook the mince for the bolognese and lasagne.
Mrs Parkinson said they still had a few meals left in one of the volunteer's deep freezers but referrals in any week could vary from one a week to five a day so the grassroots organisation had to be prepared.
Referrals for meals could come in via phone, email or text at anytime to Mrs Parkinson who then works out who is the closest volunteer in the area of the family where the meals are needed.
Volunteers for the organisation can not only help out with the cooking but also put their hand up for deliveries, fundraising and co-ordinating.
Mrs Parkinson said it was not just the food that made the organisation.
"The food is really basic. It's not anything fancy but the idea is that somebody else cares.
"The women who we deliver to generally don't have a lot of support," she said.
Because of the generosity shown to some of the women by the organisation, some recipients of the donations have gone on to become volunteers themselves," she said.
Meeting other like-minded people was a perk along with the joy of giving back and being able to help others.
Mrs Parkinson told me the cooking they did was down to a fine art with everybody knowing exactly what to do at what time - so the pressure was now on me to make my roux.
I started to melt down the butter, conscious of the light jesting floating around the room about my sauce-making ability.
Throwing in my heaped cup of flour I mixed the two briskly together until they became frothy.
The recipe the other volunteers gave me to follow instructed to "gradually" add in the two litres of milk.
Being a bit of a rebel, I chucked in the whole bottle at once. It had worked at home for years so why would it not work here?
I stirred, and stirred and stirred. And 20 minutes later I still had very watery cheese sauce in my pot. Sweat on my forehead started to break out when I realised it might not work.
However, I proceeded and started to add in my grated cheese thinking it would magically bulk up the mixture.
The next ten minutes seemed like an eternity but finally the sauce started to thicken up.
I quickly asked one of the volunteers to come over and inspect my efforts; she said it was perfect and a taste test concluded the results.
I had whipped up a sauce for 20 lasagnes, which would not only comfort but put food on the table for several different families across the Bay when things got a little bit tough.